Posted by
Ben Golliver.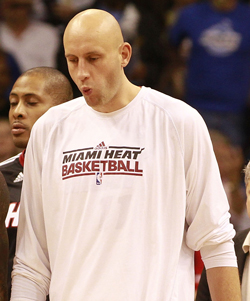 If Miami
Heat
All-Star forward
LeBron James
ever wins a title, a long-time teammate reportedly won't be along for the ride.
The Cleveland Plain-Dealer reports
that Lithuanian center
Zydrunas Ilgauskas
, who followed James from the Cleveland
Cavaliers
to the Heat in 2010, has decided to retire.
Ilgauskas, 36, played 13 seasons in the NBA, the first 12 with Cleveland, and was twice selected as an All-Star. A 7-foot-3 giant known as "Big Z," Ilgauskas averaged 13.0 points and 7.3 rebounds for his career.
"Enough is enough," Ilgauskas
told the paper
. "My body is beat up and I'm tired physically. There is no age limit, but everyone knows when it's time. I want to spend more time with my family. I have spent the last 15 years living out of a suitcase.""
A fan favorite in Cleveland, Ilgauskas, unlike James, was cheered when the Heat made their return to Cleveland's Quicken Loans Arena last season. He appeared in 72 games in 2010-2011 despite dealing with
an infection
that reportedly caused his foot to double in size.
Ilgauskas picked up the $1.4 million player option on his contract in June and was entering the final year of his deal. He will forego that money by retiring. His departure would leave Miami even more thin in the middle. The only other centers expected to be on the Heat roster at the moment are
Joel Anthony
and
Dexter Pittman
.