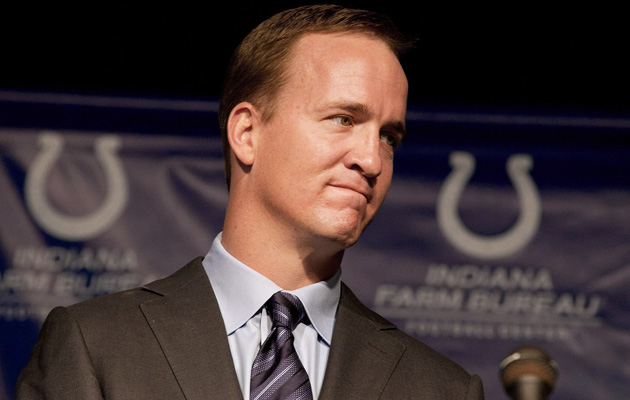 Peyton Manning is being lobbied by NBA players.
(Getty Images)
By Matt Moore
Dwyane Wade
lobbied to bring in
LeBron James
and
Chris Bosh
to Miami in 2010. Now, Wade and James are trying to bring in another superstar to Miami: Peyton Manning. From the
South Florida Sun-Sentinel
:
"I'm just sayin'," LeBron said. "Dolphins need a quarterback, and Peyton's available."Later, I asked LeBron if he was trying to recruit Manning to Miami.

"Oh, you guys heard me?" he said with a smile. "I gave my pitch, my one and only pitch. We'll see what happens."

Are the two superstars friends?

"No, not a friend of mine," LeBron said. "But I'm a Miami Heat player, and I want Miami sports to be great: The U, the Dolphins, the Marlins, the Heat, of course.

"Peyton Manning is a great player," LeBron continued. "No matter what happened this past year, his resume speaks for itself and it would be great to have him down here."
via
LeBron makes his one and only pitch for Manning to be a Dolphin - South Florida Sun-Sentinel.com
.
And from the
Palm Beach Post
:
"I'm already working on that," Haslem said. "I'm thinking Peyton Manning and Reggie Wayne. If we can work that out, we've got big Brandon Marshall, then we're on our way. We got a solid defense. So, if you all hear me, Peyton and Reggie, you know what I mean, wink, wink, make it happen."
via
Ready to share spotlight: Heat stars pushing for Peyton | Heat Zone blog: Miami Heat & NBA news | The Palm Beach Post
.
And from the Twitter account of Dwyane Wade himself:
I'm just gonna put it out thr..peyton that number 18 wld look gr8 in a dolphins uniform..steve ross let's go.. marlins & heat style..All in
via
Twitter / @DwyaneWade: I'm just gonna put it out ...
.
It says something about the immense power of the NFL that a quarterback returning from multiple neck surgeries is being publicly courted by NBA players. There's obviously no concern of tampering since the players are unconnected to any NFL team. But if Manning were to head to Miami to play for the Dolphins, that would be a lot of star power in what is not considered a large market.
Manning is clearly the biggest story in sports right now after parting ways with the Colts as they get set to move forwards with Andrew Luck. You could say Luck is the Colts'
Kyrie Irving
. Except the Colts wanted to move on and the Cavs were left devastated. Also, when Manning left the Colts on national television, the Colts agreed with it and saw it coming.
Should Manning elect to join the Dolphins, there's going to be even more dislike for South Beach as a sports city. In that regard, maybe it's a match made in heaven, the Triad and Manning.