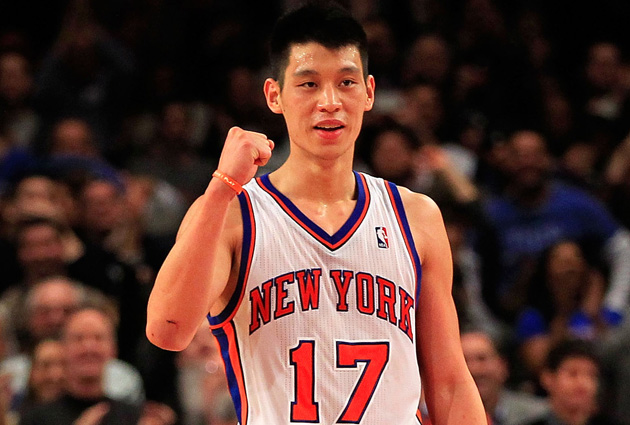 Jeremy Lin did it again Sunday, leading the Knicks to 104-97 win over Dallas.
(Getty Images)
By Matt Moore
It is no longer a surprise. It is no longer unbelievable. It is no longer improbable. And that makes it no less fun to experience. The
Jeremy Lin
Experience is very, very real.
Lin lead the the Knicks to a 104-97 win over the Dallas
Mavericks
Sunday as Madison Square Garden was once again taken over by Linsanity. Lin finished with 28 points, 14 assists, 7 turnovers, and 5 steals against the 4th best defensive efficiency squad in the league, as he returned to his double-team-splitting, drive-and-dish-kicking, absolute takeover mode we saw through his first seven games and recovered from the Knicks' loss to the
Hornets
. He still turned the ball over at a high rate, but after 46 minutes and with that much usage, you have to expect some mistakes, and Lin more than made up for it with his efficiency (28 points on 20 shots), and five steals to convert opportunities for the Knicks.
The Mavericks tried
Shawn Marion
on Lin, the same Matrix who shut down
LeBron James
in the Finals. They tried
Jason Kidd
,
Jason Terry
, hedging, trapping, rolling. Some of the traps worked.
Dominique Jones
put in good minutes on him. But Lin adjusted. That was the question with Lin, whether he could change his game to match how teams would attack him. He did, and made the Mavericks pay.
There isn't much you can say at this point that hasn't been said. But this was a statement game for Lin and the Knicks' belief in him as a legitimate starting point guard. Beating the
Lakers
with 38 points was his real arrival on the scene. Downing the Mavericks on national television after the Mavs are considered to be one of the best scouting teams in the league? That's putting his stamp on the league. Even if he did need to go right every time to do it (
via GameTracker
):

Lin definitely got help from his teammates.
J.R. Smith
made his Knicks debut, and finished with 15 points. He slumped after a hot start, but also cherry picked a clinching bucket late to help bury the Mavs' last chance. More astonishing that Lin in this game may have been
Steve Novak
, another fringe player at the start of the season, absolutely lit up the Mavericks, working from the corner and hitting 4-5 threes. It was a pretty absurd shooting display on his way to 14 points off the bench. The Knicks' bench outscored Dallas' deep supporting unit by 10, 33-23.
Lin is a legitimate starter in the NBA. Right now, he's a legitimate star. It's possible he could fade, that he just caught the Mavericks (and Lakers and
Raptors
and
Nets
...) on a bad day. But the odds of that are now the same as any other great young player in this league. He's done it against the best competition, and he continues to improve as his team does. Mike D'Antoni has his point guard. The Knicks have a leader. And New York has a bonafide sensation worth getting behind.
The Jeremy Lin Experience is real.