Posted by
Ben Golliver
.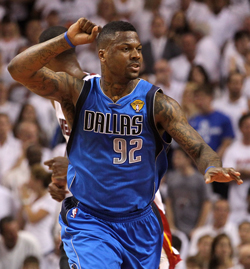 The NBA's king of smack talk is headed to the Jersey Shore.
ESPNNY.com reports
that free agent guard
DeShawn Stevenson
has agreed to a 1-year contract with the New Jersey
Nets
for a reported $2.5 million.
He plugs into a Nets roster that is fairly talentless on the wings.
Anthony Morrow
and rookie MarSon Brooks got the bulk of the minutes alongside All-Star point guard
Deron Williams
during the preseason.
Stevenson, 30, spent the 2010-2011 season with the NBA title-winning Dallas
Mavericks
. A physical, aggressive defender, Stevenson played mental games with Miami
Heat
All-Star forward
LeBron James
throughout the Finals, saying that James "
checked out
" at times during the series. Following the Finals, Stevenson
wore a t-shirt
that read "LeBron, how's my Dirk taste?" and was
arrested for public intoxication
.
An 11-year NBA veteran, Stevenson has career averages of 7.7 points and 2.2 rebounds per game. Prior to landing in Dallas, Stevenson played for the Utah
Jazz
, Orlando
Magic
and Washington
Wizards
.
Stevenson becomes the fourth prominent member of the 2011 Mavericks to find a new home this offseason. Center
Tyson Chandler
signed with the New York
Knicks
, guard J.J. Barea signed with the Minnesota
Timberwolves
and forward
Caron Butler
signed with the Los Angeles
Clippers
.