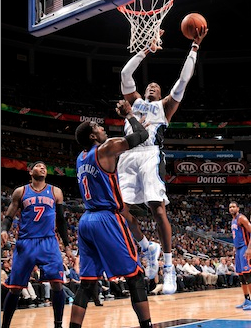 Dwight Howard could determine whether or not this is a busy NBA trade deadline.
(Getty Images)
Posted by
Ben Golliver
Will we see two hectic NBA trade deadline days in a row? Las Vegas seems to think so.
The 2011 trade season was crazy, but the biggest deals --
Carmelo Anthony
to the New York
Knicks
and
Deron Williams
to the New Jersey
Nets
-- were both completed in advance of the Feb. 24 deadline. Even so,
Gerald Wallace
,
Kendrick Perkins
,
Baron Davis
,
Shane Battier
,
Aaron Brooks
and Jeff Green were just some of the names that moved
on the final day of the trade season
.
This year,
Vegas oddsmaker Bovada
anticipates a similar level of activity. On Wednesday, the site set the over/under on trades that will happen on the March 15th deadline at 6.5. Of course, this number is for entertainment purposes only.
It goes without saying that the biggest potential trade chips are Orlando
Magic
center Dwight Howard and Los Angeles
Lakers
forward
Pau Gasol
. Both are listed at even odds if you want to bet "yes" on them moving.
So will we see seven trades? Given the slow run-up of rumors it looks a little bleak right now. Let's take a look from both sides.
If this does wind up being a quiet trade season, you can bet on the following factors emerging as explanations after the fact.
Howard's uncertainty
Teams with top-tier assets are on hold as they wait for the Howard situation to clear up. If it gets closer to the deadline and he winds up staying in Orlando, rival GMs will have the choice of scrambling to execute a back-up plan or simply holding their cards until the offseason. It's essentially the same thing if he winds up moving late. For teams not in the transaction, they won't have days to weigh their options as they did following the Anthony and Williams trades last year.
Lockout schedule
The delayed start to the 2011-2012 season also pushed back the trade deadline. With six weeks until the playoffs, the temptation to fold the tent and wait until Draft season could be strong for teams that either aren't true contenders or have already dropped out of the playoff chase. It's much easier to write-off a 66-game season than it is an 82-game season. A number of teams have tanked hard since the beginning of the season using the same logic.
Established dominance in the East


In the East, Chicago and Miami have separated themselves so far from the pack that GMs may have trouble selling their owners on a win-now move that requires taking on salary. Why stock up only to get cut down by two truly elite teams? That train of thought is compounded by what is expected to be a strong free agency class. Taking on salary now means less flexibility later.
If, on the other hand, we do see a flurry of deals, here are a few factors that might trigger them.
Wide open West
If there's activity for basketball reasons, there's a good chance it happens out West given the possibility that 4.5 games separate seeds 3 through 11. If someone wants to pay to make a push, they will be able to do so. The
Clippers
, Lakers,
Mavericks
,
Rockets
and
Timberwolves
would all seem to have interest in making their team better for a little postseason fun.
Luxury tax
Under the new collective bargaining agreement, high payroll teams are set to be hit with major fines for going over -- and eventually, for staying over -- the luxury tax line. Already, we saw one high-profile salary dump for tax purposes, when the Lakers moved
Lamar Odom
to the Mavericks. It doesn't have to be big names or big salary numbers that move, though. Simply shipping an extraneous smaller-salary (over multiple years) guy to a team with cap space for oblique future Draft considerations could wind up saving a taxpayer real money when everything is added up down the line.
Danny Ainge
The Boston
Celtics
are always active and this year they have assets galore plus plenty of motivation to move them given the uncertain direction going forward. Last year, Ainge made trades both big (Kendrick Perkins) and small (
Luke Harangody
). It's difficult to imagine he could sit on his hands with Boston limping along as the No. 7 seed.