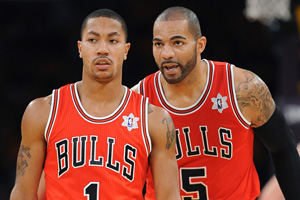 Derrick Rose says he doesn't want the Bulls to trade Carlos Boozer.
(Getty Images)
By Matt Moore
Earlier this week,
a report surfaced
that
Derrick Rose
supported a theoretical trade of
Carlos Boozer
for
Pau Gasol
. If true, it would be the first time Rose has been involved in any sort of aggression insertion into management's plans, as he usually takes a backseat to such discussions, and has crafted his image very carefully to indicate that he just plays basketball, no matter who he's with. It's saved him a lot of trouble. And after the most recent report, the Bulls have already responded to the report with a predictable denial from Rose. From Bulls.com:
"I heard about it after the game [on Monday]," said Rose. "That's something I wouldn't say to anyone, that I need someone to come to this team, or I'm trying to get rid of someone on this team. It was all false and that's something I would never do."

Asked if he talked to Carlos Boozer, who was reported to be involved in a potential deal for Gasol, Rose said had spoken with his teammate about the rumors.v "He should know, but I talked to him a little bit," Rose said. "I think he already knew they were false. It's something I wouldn't do to anyone; especially trade him to any team. It was all false."

In the past, Rose has expressed nothing but content for his teammates, and on Wednesday, he reiterated that sentiment.

"I'm good with the teammates I have," Rose said. "I've always been saying that. The team that we have, we've been winning games, and we're not in the position to look to trade anyone right now."
via
Pain-free Rose says no trades needed for this Bulls team | Blogs.Bulls.com
.
It's rare that players or team websites even address such rumors, but this was a pretty solid move on behalf of Rose and the Bulls. It protects the image that Rose isn't involved in the superstar-chasing or star-meddling that has become rampant in this league. Whether Rose is or is not involved in such discussions is immaterial, only the perception matters, as it furthers the protective shield of humility that has for the most part kept Rose free of both speculation and criticism.
And assuming Rose is being honest, it's good to hear, because frankly, the trade doesn't make much sense at all. The Bulls would almost certainly have to surrender an additional asset to get Gasol, which means you're trading your second best player and sacrificing the depth that has helped make you one of the best teams in the league, in order to take on a player who has become inconsistent from an emotional and mental standpoint, and in many ways is simply a taller, slightly better version of Boozer. The same defensive questions would exist and be covered up by the Bulls' defense, the same soft short-range-jumper game would be employed, the same questions about their role on the team would be asked.
It's not a lose-lose for the Bulls, it's just not a win or a loss. It's a sideways step. The Bulls got out in front of this to try and cut off talk. The last thing they need is to be dragged into drama and speculation over trades.
Look how that's going for the
Lakers
, despite the winning streak they're on.