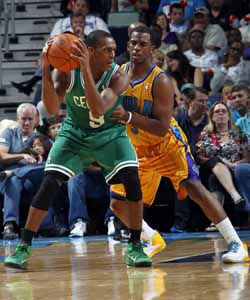 By Matt Moore
The Boston
Celtics
are looking for one more title run with this group of All-Stars.
And they may be willing to sacrifice one of the Big 4 to get there.
In the ESPN report detailing
Chris Paul
's desire to join the
Knicks
, no matter how difficult that may be, another piece of info slipped in. This time, it was about the Celtics, and specifically,
Rajon Rondo
. From ESPN:
While Boston is not shopping Rajon Rondo, it would be open to trading him in the right deal, sources say. The Celtics feel they need more scoring to take the load off Paul Pierce.
via
Chris Paul and New York's hopes - TrueHoop Blog - ESPN
.
It's not the first time it's been suggested that Rondo could be on the block. He's consistently been mentioned as being included in talks, despite being one of the perennial league leaders in assist rate. Experts still have their doubts about him because of his inconsistent shooting and volatile personality. But
there are some repors which indicate that this just isn't going to happen.
The Celtics moving Rondo would be more likely to occur in a move to acquire Chris Paul from the
Hornets
. With their projected available space in 2012, assuming they don't break the bank on Green or re-sign any of the big three to a massive extension, they should be in line to nab at least one major free agent, especially if Paul Pierce retires or is given the amnesty. A trade featuring Rondo, the
Clippers
' protected pick they acquired in the Perkins trade, and pieces might make Boston a great fit for Paul.
But it should be clear, the Celtics' management still believes very firmly in Rondo and what he's helped them accomplish. It's unthinkable that a point guard of Rondo's caliber would be traded, but that's the environment we operate in when Chris Paul and
Dwight Howard
are (potentially) on the market.