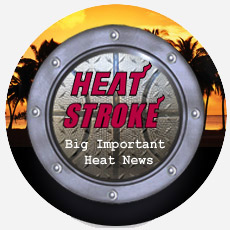 Popular studio show goes on the road to cover LeBron as media frenzy continues. Posted by Matt Moore
"
Inside the NBA
" is arguably the best... no, sorry, it is the best NBA studio show on television. And it's not even close and we all know it. The combination of personality, style, analysis, and discussion that the show puts together is unmatched and it is quite literally must-see TV for any huge NBA fan. And it's almost always held in the comfy confines of the TNT studios, except for All-Star weekend and the Conference Finals.
But then, this is no ordinary season.
TNT
has announced that it's taking its show on the road
for... you guessed it, two
Heat
games this year. The crew will be in Boston for the season opener October 26th (only a week you guys!) as Miami faces the
Celtics
, and they'll travel to Cleveland on December 2nd for the near-riot when
LeBron James
returns to Cleveland. You can expect a lot of Charles Barkley bad-mouthing LeBron during both of these shows while Kenny Smith probably takes a more eloquent approach at criticism and Ernie laughs slightly uncomfortably.
Of course, for all the talk of how the Miami Triad team-up was bad for the sport, or in poor consideration, or whatever, the fact remains that TNT will still be there, making money off of the public attention garners even as he's hated, as this team continues to crossover into unforseen depths of media focus. It's a cash cow, even if some are slashing at the udders while they milk.