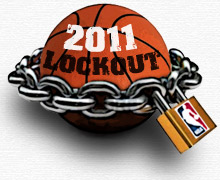 By Matt Moore
With the NBA and NBPA having met for 15 hours Wednesday-into-Thursday, the two sides were understandably brief and frazzled at 4AM EST when press conferences were held.
But from those pressers, we have enough to give you some takeaways on what to expect
.
1. It's RIGHT THERE.
Derek Fisher
was adamant about expressing that the idea
that there was a deal to be had is a "reach," while David Stern chose to simply communicate that both sides had agreed not to talk about it. But if you want the best indication of where things stand, it comes from a throwaway line from a sleep-deprived Billy Hunter amid a sea of reports of optimism.
By itself, Hunter referring to what the two sides have in front of them as "the deal" is nothing more than a slip of the tongue on national television, a poor phrasing. But combined with all the other indicators that there's hope and progress that was made on Wednesday, it's and indication of this: it's no longer about "ideas" and "concepts." There's a framework, or something resembling a framework being hatched. It may have gigantic holes in it, it may not be able to support itself if you put it up on its end, but there's structure to what the two sides are discussing.
Which means that they can see it.
2. Both sides think BRI is solvable.
If BRI wasn't solvable, they wouldn't have gone 15 hours. It remains the number one thing that can detonate this entire process. The union could be thinking the league has to be willing to budge on 50/50 with all the system concessions, while the league is staying where it's at. "They know where we stand" Adam Silver said. Conversely, the league could assume that the players know they won't budge on 50/50 and this is all adjustments with that understanding, even if it wasn't a precondition.
But that's not what it sounds like. The two sides didn't touch BRI Wednesday, a mind-boggling element considering the two sides met for 15 freaking hours. But there's simply no way all the smiles and talk of a "positive energy" would have rang out if both sides were aware that BRI wasn't going anywhere. They're not staying in a room for 15 hours again knowing that any progress is pointless since they're still going to war over that three percent that separates them.
BRI may not be solvable, but both sides think it is.
3. The things that remain are still big.
The list of things that they could still be working on include the tax structure (though it would seem that's the biggest issue and there were huge gains there, most likely), the length of contract, the mid-level exception, and the length of the deal. Clearly there had to have been some movement on some combination of those issues to warrant the optimism of an 82-game seaosn being played with a deal done by Monday a possibility all of a sudden.
But that doesn't mean that one side or the other is assuming that a big issue will be small. Interpretation of the other side can get muddled in the intensity and if one side or the other takes a vicious stand over something small, like a two year gap in the length of contracts for max players, all of a sudden things could spiral. Quickly.
They have not "solved" anything. They just have enough ideas to support more talks and the idea of a deal is being entertained.
4. The biggest problem for both sides is their constituents.
Stern referenced the fact that any deal that is agreed upon must be ratified by vote by both the union and the Board of Governors. Which means that all this good news and positive vibes can be set on fire tomorrow once Dan Gilbert, Robert Sarver, Ted Leonsis, Peter Holt, or any combination of agents or players are notified of what was agreed upon Wednesday/Thursday.
Fisher confirmed that no additional members would be brought in for the talks, in fact the union is losing an advisor to a conflict Thursday. But that's their best hope for a deal. PUsh through without the owners or players, get a deal they think represents both sides' interests, and then try and ram it through with the promise of a season.
Any number of unstable elements who have already caused sessions to crash and burn could do the same to whatever progress was made in the past two days. The bridge to tomorrow has a number of trolls hiding under it.
5. The sides that don't want to miss games are in control at this point.
Both sides referenced the very real possibility of an 82-game season. That's a little bit insane considering the first two weeks are canceled and David Stern confirmed the likely loss of the next two weeks, losing an entire month. But the plan is there, as has been suggested before, if they can get a deal.
The word "window" has popped up repeatedly in the last two weeks, even with the disaster of last Thursday's meeting. There's a narrow gap between losing paychecks, the start of court proceedings, the opportunity for keeping an 82-game schedule pre-arranged by the league, and getting this mess behind everyone before the damage is irreparable. It's clear there are forces still pushing to sacrifice the entire season, but they're not the ones working now, and the ones working now have built enough to keep the number "82" alive, for now.
Thursday's big. Huge. Looking like a season? Not there yet. But we're closer than ever and things are more optimistic than ever.
Which of course means everything will plummet into despair Thursday afternoon. But we'll keep riding the rollercoaster we're handcuffed to.