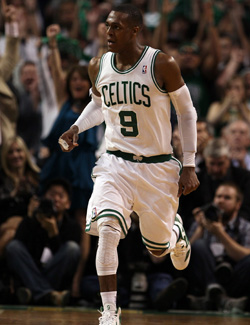 By Matt Moore
The Chicago-Boston rivalry may be the best in the NBA. The rivalries with the
Heat
are too stilted, too forced, too bent on the drama surrounding the Heat without actual basketball behind it. But the
Celtics
and
Bulls
have the 2009 seven-game series which is still revered as one of the greatest first-round series ever, if not the best. You've got star power with contrast, in the form of
Derrick Rose
vs.
Rajon Rondo
,
Carlos Boozer
vs.
Kevin Garnett
, and
Ray Allen
vs.... no, wait, no one on Chicago can shoot. But still. Throw in
Joakim Noah
and you've got a great rivarly that it would be a shame to lose to a lockout should we lose the year and that be the end of the Celtics' real run.
But if you're looking for some lockout bulletin board material, here's a nice tidbit. Rajon Rondo did an interview with Red Bull after one of their events, and he went ahead and gave Chicago the love it's shown him for so long, right back.
Madison Square Garden however, does not harbor the noisiest fans according to Rondo, an honor that he says goes to the Golden State Warriors. "They got a pretty loud crowd," he pointed out.

The most obnoxious crowd? "I'd say Chicago. Ever since a couple years back in the playoffs, me and Kirk [Hinrich] got into it and they've been booing me and heckling me ever since."
via
Celtics Basketball Player Rajon Rondo Stays Busy in NBA Off-season
.
Rondo famously threw
Kirk Hinrich
into a table at one point during a scuffle, and has had run-ins with about half the Bulls. So this should come as no surprise. So Joakim Noah probably hates the Heat crowd the most, and Rondo's against Chicago's. Oh, hey, Rondo and Carlos Boozer have something in common!
This rivalry will be interesting to watch as the Bulls continue to develop under former Celtics assistant Tom Thibodeau and the Big 3 decline in Boston. Somehow I'm thinking
Jeff Green
isn't going to be sparking any huge conflicts. But it's good to know Rondo will always have a place where everybody knows his name, even if they're following it with the word "sucks."
(HT:
RedsArmy
.com)