Posted by Royce Young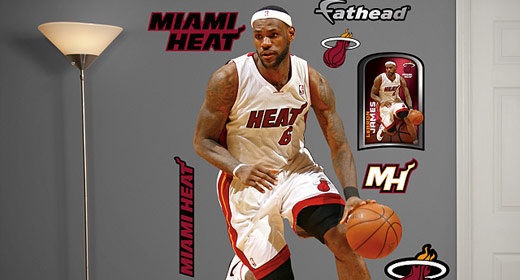 After "The Decision" last June, Dan Gilbert was, well, pissed. He ripped off a now infamous Comic Sans rant proclaiming that LeBron was a traitor and wouldn't win a title before the Cavs. He also pulled a more subtle gesture to take a dig at his former superstar: Gilbert, who owns Fathead, slashed prices on all LeBron Cavalier merchandise to $17.41, which is the year famous traitor Benedict Arnold was born.
History slam.
But via CNBC.com
, Gilbert, who profitted greatly from LeBron's time in Cleveland, is back to making money off his sworn enemy.
Before last season, LeBron James decided to opt out of the wall graphic category that is included as part of each NBA player's group licensing agreement. James had a deal with a company to make wall graphics of him, though that company couldn't use NBA marks since the official rights to league marks were exclusive to Fathead.

In the end, the company never did release a James wall graphic and the opt out recently expired.

But on Monday morning, CNBC discovered that Fathead was selling four wall graphics of James in his Heat jersey. What makes the relationship sticky is that the ownership group of Fathead is led by Dan Gilbert, owner of the Cleveland Cavaliers, who LeBron of course left to go to the Heat.
(If you're wondering, Gilbert can continue to sell his Fathead player things during the lockout because the company's deal is with the NBA Players' Association, not the NBA.)
If you're wondering, all the Fathead LeBron stuff is now $17.41 now. It's now $99.99. So Gilbert's obviously made a mends enough in his mind to take advantage of LeBron's starpower to make a little money off him.
LeBron needs to ask himself his favorite question here: What should I do? Should he opt out again just to spite Gilbert? Should he be the bigger man and just let Gilbert make his life-size wall stickers?
I'm a big fan of spite and I think LeBron has every reason to opt out just to stick it to Gilbert. I mean, remember, Gilbert did call LeBron a coward. And then rubbed him losing the NBA Finals in a bit on Twitter. Go for spite LeBron. You've stuck it to Gilbert before, now just do it again.