Posted by Matt Moore
It had to catch up with him at some point.
Derrick Rose
entered Wednesday night's Game 2 as the league leader in usage in the playoffs. If you're not metric-inclined, put simply, Rose was responsible for more possessions than any other player in the postseason, being in control for 35.7 percent of all the
Bulls
' possessions. That's a heavy load to bear. And in the fourth quarter against the
Heat
in Game 2, it caught up with Rose.
The MVP finished just 7-23 from the field, harassed and bothered both by the Heat's double-teams on the perimeter and at the rim where the help defense was helped tremendously by, you guessed it,
Udonis Haslem
. But especially bad was his fourth quarter, in which the Bulls scored just 10 points, while
LeBron James
scored nine. Here's
Rose's fourth quarter
.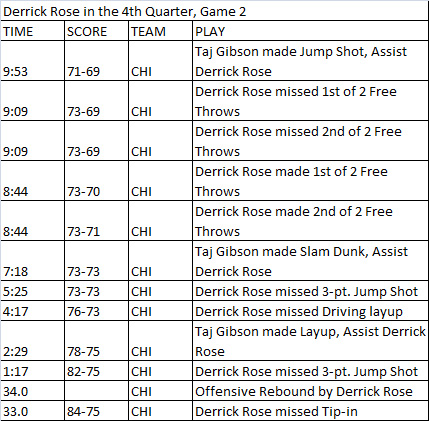 That's it. 2-4 free throw shooting, three assists, 0-4 from the field. The
shot chart
is equally unkind to DRose.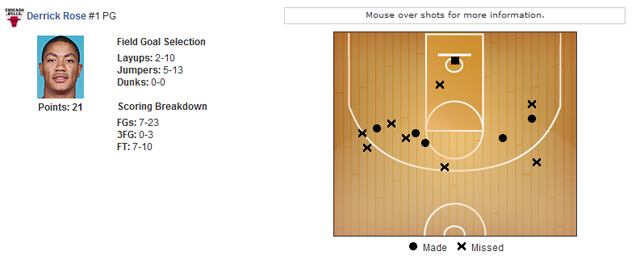 Yeah, 2-10 at the rim. Rose
admitted post-game
, "I missed a lot of shots I normally make tonight." Rose chalked it up to "one of those games." Which is partially true. But the Heat were much more determined to shut off Rose's perimeter pass-off options while maintaining their attack on Rose at the same time. The Heat spent less time on help defense at the elbow during Rose's drives and more time doubling on the perimeter, switching up coverage, and attacking the rim. They forced Rose to make hyper-aggressive moves toward the basket and challenged him hard there, making tough shots tougher. Rose can hit those tough shots. Making them that much tougher was enough to cause that 2-10 layup count.
Rose was even missing free throws.
We've yet to see the MVP Derrick Rose in this series. The Bulls' offense has lived on offensive rebounds but at some point, they need to not need three tries to score. Haslem started chipping away at the Bulls' work on the offensive glass and the result was the Bulls being unable to score, again, just ten points in the fourth for the top seed in the East.
The best player for the Bulls had a bad night, with some help from the Heat on that front. Unless the MVP gets back on track, it's going to be an uphill climb for the Bulls. One can only feast on bench play and glass work for so long before your stars have to make a play.