Posted by Ben Golliver.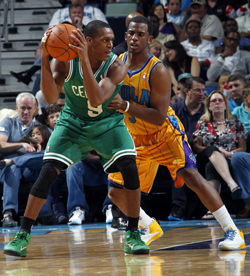 In a past lifetime, Boston
Celtics
president Danny Ainge was a all-state high school baseball player and Toronto Blue Jays draft pick. He hasn't stopped swinging for the fences since.
SI.com reports
that the always aggressive Ainge, who transformed the Celtics into a title-winner by acquiring
Kevin Garnett
and
Ray Allen
in 2007, is targeting New Orleans
Hornets
All-Star guard
Chris Paul
.
But according to numerous sources with knowledge of the situation, Boston general manager Danny Ainge is highly motivated to land an even better point guard than the one who led the Celtics to a championship in 2008 and an average of 58.5 wins in the last four seasons: New Orleans' Chris Paul.

Ainge, the sources say, has recently discussed trading Rondo in a deal that Nets Paul, but the Hornets don't appear interested in a two-team deal in which Rondo -- who has four years worth approximately $46 million left on his contract -- and Paul would switch places. So Ainge has been on the prowl for a third team that could provide the sort of young pieces Hornets general manager Dell Demps would covet as part of his possible rebuilding plan. The more pressing question, of course, is whether Paul, who can become a free agent after this season, would consider signing an extension with Boston.
With the Big 3 aging the Celtics are approacing a crossroads. Conventional wisdom dictated that they find a way to surround Rondo, a top-shelf, pass-first play-maker, with solid wing scorers and/or an elite big man. However, acquiring Paul would give Boston a point guard who is an exceptional play-maker while also being able to score in volume.
The problem here lies in Boston's ability to pitch Paul on its ability to win now and for the foreseeable future.
Reports have surfaced
that Paul's top choice is the New York
Knicks
, in no small part because perennial All-Stars
Carmelo Anthony
and
Amar'e Stoudemire
are locked up for multiple years. In Boston, Kevin Garnett's contract is set to expire this summer and he's whispered about a potential retirement. Guard Ray Allen, who is now 36, will have his deal expire this summer too. If both depart, that will create significant cap room to build around a duo of Paul and forward
Paul Pierce
but is that possibility necessarily more enticing than the situation that might be available in New York?
For superstars to change cities, it requires a balance between what the team has to offer the player and what the player has to offer the team. Right now, Paul has more to offer to the Celtics than the Celtics have to offer Paul. With a few delicate roster makeover cap moves and/or the promise of the right free agent signing next summer, though, and the proper balance could be achieved.
Earlier Tuesday, we noted that Rondo's name was
beginning to float
in rumor mill discussions.