The Charlotte Bobcats are reportedly interested in trading for Denver Nuggets all star forward Carmelo Anthony. Posted by Ben Golliver.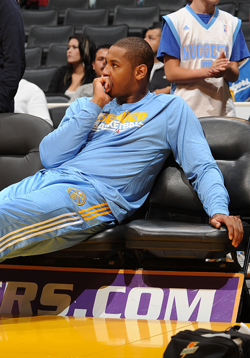 It's open season on Carmelo Anthony rumors, once again, after CBSSports.com
Ken Berger reported earlier this week
that the Denver Nuggets have come to terms with the fact that they need to trade Anthony. While Berger also reported this weekend that Anthony is
considering an extension with the team
, that feels like a polite way for Anthony to show respect to his bosses, who are obviously in a difficult position, looking to maximize the return on their franchise player leaving town. This weekend comes news that a new player may be interested in talking Anthony trades with the Nuggets.
ESPN.com reports
that the Charlotte Bobcats are interested in trading for Anthony.
But the Knicks are not the only team trying to acquire Anthony, as noted by the source who said the Bobcats are trying to trade for him (the source did not reveal exactly what Charlotte was offering).
HoopsWorld
takes a crack at guessing which Bobcats might be involved in this rumored trade.
There are no solid details about what the Bobcats might give up, and ESPN is running little more than a blurb in their news stream about the rumored trade, but given what the Bobcats have been willing to offer up in the past it's logical to think they would part with Gerald Wallace and Boris Diaw, two pieces that would help the Nuggets.
The Bobcats were a player in Anthony rumors earlier this fall, when a four-team blockbuster trade was floated that involved the Denver Nuggets, Charlotte Bobcats, New Jersey
Nets
and Utah
Jazz
. In that scenario, Anthony was to land in New Jersey rather than Charlotte. A trade with the Bobcats doesn't make nearly as much sense as a trade with the Nets for the Nuggets, but it's not the worst idea in the world. Wallace would plug in nicely to fill the huge minutes gap that Anthony's departure would create. He would provide an upgrade defensively while still being able to provide some scoring. The Nuggets would be downgrading overall by going from Anthony to Wallace, but it could be significantly worse. The major issue here: What else do the Bobcats have that would be attractive to the Nuggets? Denver, as we've written before, needs to acquire young talent, salary cap flexibility and future assets, and Charlotte is pretty much barren when it comes to desirable young talent and attractive draft picks. Wallace and junk won't get this done. And even if the Nuggets could talk themselves into a Wallace-centered package, why in the world would Anthony want to play for the Bobcats? The lure of Michael Jordan's ownership sounds good on paper, but one look at the team's roster, recent history, lack of media profile is all it would take for Anthony to forget about inking an extension with Charlotte. Not to mention that Bobcats coach Larry Brown is reportedly
struggling to get through to his team
. Anthony wants to win and play in a high-profile media market; Charlotte is years (decades?) away from seriously contending and is one of the most invisible franchises in the NBA. As for the Bobcats, just like anyone else, they are not going to trade one of their best players for a half-season of Anthony and a hope at re-signing him this summer. That's simply too much risk, even for a mediocre team that's treading water. Add it all up, and this rumor doesn't make much sense.