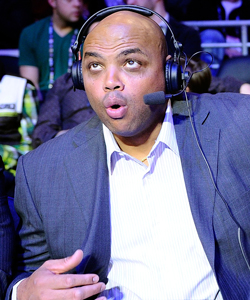 Charles Barkley isn't feeling the NBA's current quality of play.
(Getty Images)
Posted by
Ben Golliver
Charles Barkley is sorry that you, the NBA fan, are being subjected to this lockout-shortened season.
The loud-mouthed TNT commentator told ESPN Chicago that the quality of play during this 66-game season simply isn't up to snuff. Some of the comments,
as transcribed by SportsRadioInterviews.com
.
"As a NBA fan I want to apologize to the fans, I cannot believe how bad the NBA is right now, I'm a fan first and foremost, watching the NBA right now I'm embarrassed about the product we're putting out there right now. It's no fun for me to watch these games, I feel bad for the fans.

"There are probably ten teams worth watching on a nightly basis. They have all these built in excuse about it's the lockout. Let me tell you something if these teams played once a week they would still suck. You watch one of these teams and they rested for a week they would still suck. I don't know man. I feel bad for the fans."
Barkley, of course, is a known contrarian, and his critique simply doesn't pass the smell test.
As TrueHoop.com
noted on Thursday
, arena attendance is up while television ratings and internet traffic are both way up. In other words, Barkley is apologizing to a lot of people whose collective decision-making suggests they don't feel particularly aggrieved.
The numbers have been crunched, and scoring, offensive efficiency and shooting percentages are all down this season. The condensed schedule has led to some truly ugly abominations. The Charlotte
Bobcats
got blown out by 44-points on Wednesday night, for example, and the Orlando
Magic
went from juggernaught to downright unwatchable in less than a week.
But, by and large, the ugliness is masked very, very nicely by the sheer volume of games. One thing is for sure: no one is dwelling on individual games this season, there is simply no time for it. On to the next one, as Jay-Z might say. It's a way of life in this year's NBA.
Less rest days and more games means shorter memories for players and media but it also produces a new viewing experience for fans. Gone are the regular nights where there are but a handful of games to choose from. Even if, like Barkley says, only one/third of the league is worth watching, that's 10 teams. On any given night, 4-6 of those teams are liable to be playing, meaning the odds that there are at least two entertaining games to hold a fan's interest are pretty high. There aren't many people in the United States who expect, or require, more than two good games per night from the league.
Apparently, Barkley is one of them. Or, he at least wants to pretend to be one of them. That's his perogative. But in a week that saw
LeBron James
jump over a human being during an alley-oop and
Blake Griffin
deliver one of the most memorable dunks in league history over a 30-hour timespan, his stance isn't convincing in the slightest.