Posted by
Ben Golliver
and
Matt Moore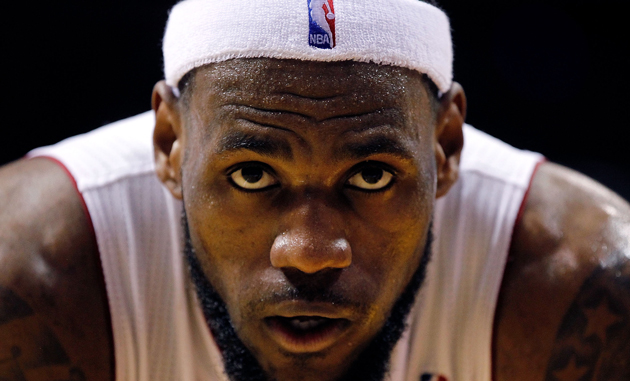 There were plenty of reasons to shut it down and coast when things got off to a bad start on Tuesday night. Three straight losses entering a tough contest with the San Antonio
Spurs
. A 14-point halftime deficit. No
Dwyane Wade
. He was reportedly battling a cold. An opponent seemingly clicking on all cylinders and doing back-breaking things like
hitting a half court shot
at the end of the first half. But LeBron James went the other way, exploding in the third quarter for 17 points on his way to one of his stupefying stat lines: 33 points, 5 rebounds and 10 assists on 12-21 shooting in 35 minutes. James connected on four 3-pointers in this one, more than he'd made in the entire season combined up to this point. Thanks to James, the
Heat
won the third quarter 39-12 and never looked back, cruising to a 120-98 home victory. -- BG

Mike Miller
made his season debut
on Tuesday night after sitting for the first three weeks as he recovered from a sports hernia surgery. His return was, well, flawless. iller played just 15 minutes, barely enough time to get fully warm, and hadn't played in an NBA game in roughly 8 months yet he shot 6-for-6 from the field, all 3-pointers, to finish with 18 points, 4 rebounds and 1 assist. Ridiculous. He brought the hustle, too, as he crashed after loose balls multiple times but this game was all about making San Antonio pay for leaving him. -- BG

This right here is arguably the best play of Chris Bosh's career. It came near the end of an excellent two-way performance, one that will no doubt get overshadowed by James' explosion. Bosh finished with 30 points, 8 rebounds, 5 assists and 4 setals on 14-22 shooting in 37 minutes. On this play, he corralled a defensive rebound, slowly pushed tempo. When no Heat guards came to collect the ball, Bosh casually dribbled at Spurs big man
Tiago Splitter
before unleashing a reverse spin move as he entered the paint and rising to slam with two hands. He swung so forcefully on the rim that he nearly hit his head on the backboard. Sensational stuff. -- BG

We harp on teams all the time for not taking care of business against weaker opposition or at home. With an excellent homecourt advantage and the absence of both
Chris Paul
and
Mo Williams
, a Tuesday night match-up is a should-win for the Jazz, even if no one is quite sure what their ceiling or basement is yet. Not only did Utah win, they blew out the
Clippers
, beating them at their own highlight-manufacturing game.
Blake Griffin
took a backseat to
Jeremy Evans
for a night, as Utah's long leaper through down alley-oop after alley-oop, adding two high altitude blocks for good measure. The Jazz's second half was a clinic on how to close the door on a beaten team, as they opened the game up with well-timed passes, hard cuts and excellent team defense. Rookie
Enes Kanter
fiinished with 10 points and 5 rebounds, cracking double-digits as a pro for the first time. And, wouldn't you know it, a strong two-handed dunk was included in that output. -- BG
George Karl's Second Quarter

Karl used seven players in three different lineup combinations during a 19-4 run against Milwaukee. He relied on
Corey Brewer
, who no one has ever relied on, and he delivered with 10 points in the quarter. Having depth on a team is one thing. Using it effectively is another. -- MM

David Lee is playing well. On defense, even. He's got the tenacity of his
Knicks
days, a better offensive repertoire and keeps coming up with big buckets in key moments. The
Warriors
needed a big year from Lee and so far he's giving it to them. -- MM

He was rallying! And dropping floaters! And hitting threes! And the lead was single-digits! And then he took a series of Kobe shots. You know, 40-foot threes off the dribble. So close, Jitterbug. So close. -- MM

Truth be told, the Cavs kind of outplayed the Warriors on a lot of levels. But their turnovers destroyed them.
Kyrie Irving
had six all his own. His overall performance was great, but the turnovers were deadly. The Cavaliers are looking good in losses, though, and that's a step in the right direction. -- MM
San Antonio Spurs' Second Half

That's how bad they were in the second half. They deserve two "F"s. May God have mercy have their soul. -- MM