Posted by
Ben Golliver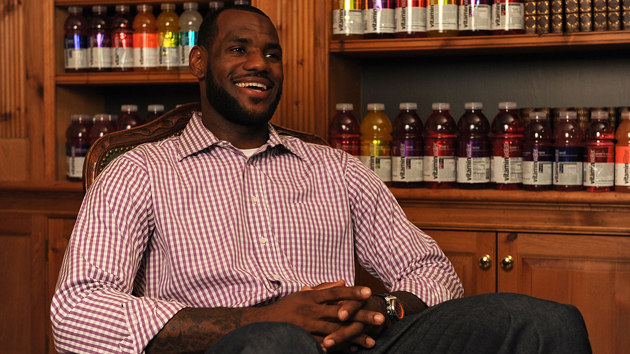 LeBron James reportedly denies that he or his camp have made overtures to Cavaliers owner Dan Gilbert.
(ESPN)
On Thusday, Miami
Heat
All-Star forward LeBron James
opened up a pandora's box for rumors
, acknowledging that he would consider returning to play in Cleveland for the Cavaliers at some point in his career.
"I don't know. I think it would be great," James said, according to the Associated Press. "It would be fun to play in front of these fans again. I had a lot fun times in my seven years here. You can't predict the future and hopefully I continue to stay healthy. I'm here as a Miami Heat player, and I'm happy where I am now, but I don't rule that out in no sense."
On Friday,
Yahoo! Sports reported
that it wasn't just an idle thought, that James had actually reached out through backchannels to Cavaliers owner Dan Gilbert about a potential return.
This was no accident, no misspeaking, nothing out of context. Before mentioning Thursday his openness to playing in Cleveland again, James months ago had an emissary or two carry that message to the Cavaliers' front office, league sources told Yahoo! Sports. His camp wanted the message delivered to owner Dan Gilbert, sources said, but so far, the response has been silence.


"He has started to lay the groundwork, and he's waiting to see what Dan Gilbert's reaction to it is," one league source with direct knowledge told Yahoo! Sports.
The Heat, of course, were in Cleveland to face the Cavaliers on Friday night at Quicken Loans Arena, a game they won easily, 111-87. James finished with 28 points, 5 rebounds, 5 asssists, 1 steal and 1 block on 11-for-19 shooting in 30 minutes.

After the game, James denied that that he and his camp had reached out to Gilbert.
"It's not true, it's not true at all," James said,
according to the Sun-Sentinel
.
When James announced he was headed to Miami during a nationally-televised special called "The Decision," Gilbert
publicly accused James of disloyalty and betrayal
, guaranteeing that the Cavaliers would win an NBA title before the Heat.
On Thursday, James said that was all water under the bridge and admitted that he didn't handle his departure in the proper manner.
"I don't hold grudges," he said,
according to ESPN.com
. "I hold them a little bit but I don't hold them that long. He said what he said out of anger. He probably would want to take that back, but I made a mistake, too. There's some things I'd want to take back as well. You learn from your mistakes and move on."
The Plain-Dealer has reported
that Gilbert will not respond to James' comment for fear of receiving a fine from the NBA league office.
James' current contract runs through the 2015-2016 season. He has an early termination option for 2014-2015 and a player option for the final year of the deal,
according to StoryTellersContracts.com
. He will be 31 years old when the entirety of the deal is completed.
James, 27, spent his first seven NBA season with the Cavaliers. He is averaging 28.0 points, 8.2 rebounds, 6.8 assists and 1.7 steals in 36.9 minutes per game this season, and he's a leading NBA MVP candidate.