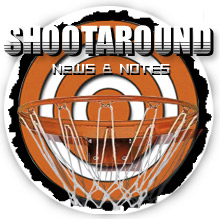 Posted by Royce Young
Kevin Love is blogging for GQ: "Anyway, the whole thing definitely got blown out of proportion, and that's probably because of what happened last season between me and Coach. If you don't know, he and I butted heads a few times. I was coming off the bench a lot, and we weren't on the same page about my playing time. I thought that I was being very productive and efficient when I was on the floor, doing great in practice, working my butt off, and that I had earned more time than I was getting. But we didn't see eye-to-eye about that. Still, we sorted all that out during the offseason. And the morning after the Kings game, we talked about it again, about how we're not going to go down that same path this season. We told each other that everything was cool, and we laughed off the way people reacted to the Kings game."
Kevin Love Watch: 20 points, six rebounds in 26 minutes last night against Miami. There's a good reason for the lack of minutes though. The Wolves were killed by the Heat 129-97.
Jerry Zgoda of the Star Tribune: "LeBron James and Wolves forward Anthony Tolliver met on the court for the first time since he spoofed James' 'The Decision' television program with his own Youtube video. When asked if the subject was brought up Tuesday night, Tolliver said, 'Nah, no. Just said, 'What's up,' and kept moving.'"
Andrew Sharp of SB Nation breaking down recent NBA commercials: "Sorry, but any commercial that pairs Jim Jones with Dr. J and the White Stripes earns the top spot in the Commercial Power Rankings. We don't have many rules, but that's one of them. And God Shammgod makes a cameo! And Kenny Anderson! And there's a shot of an empty barber shop, just because... Why the barber shop? If you have to ask the question, Jim Jones says you're not real enough to know the answer."
Just as quickly as people reacted to Miami's first loss against the Celtics, some are doing the same with their recent dominance. But dang, they've looked really, really good.
Israel Gutierrez of The Miami Herald: "As if his coming back to AmericanAirlines Arena to be reminded what he's not a part of wasn't bad enough, Michael Beasley's night was made infinitely worse when he landed hard on his back and hip. He tried to walk off the injury but it quickly became obvious that his left leg wasn't responding. He was assisted off the floor, dragging his leg behind him, wincing in pain, and he never came back out to the floor. It seems the kid just can't win when it comes to Miami. He was a disappointment before he ever got here because he wasn't the No. 1 pick. He wasn't Derrick Rose."
Mike Conley wants to justify his extension: "I forget the past very quickly. I'm all about what I'm doing right now," Conley told The Commercial-Appeal . "This year is different for me. I'm a different player. This year is going to be a big year for me and the Memphis Grizzlies. Now, I know that they believe in me. They trust me. I believe I belong and they believe that too."