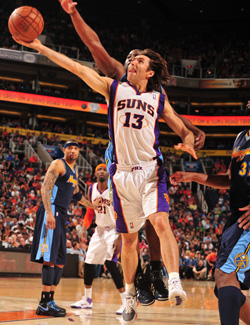 Steve Nash struggling with pelvic injury, may miss Sunday game against Orlando Magic.
Posted by Matt Moore
Steve Nash always plays through pain. He suffers with a back condition that would have put most players on the shelf years ago, but thanks to his rigorous diet and conditioning program he's managed to play through it. Now, though, he's suffering from a pelvic injury that is both painful and restrictive to his play, and which may leave him unavailable for Sunday's game against the Orlando Magic. From the
Arizona Republic
:
The quickest Steve Nash moved all night was out of US Airways Center after the game.

Talking again about playing through pain and taking another whipping from Denver was probably not high on his list as he exited the arena the back way. Nash said he wanted to keep playing through his injury pubic symphysis irritation but Thursday night's effort put him closer to taking Sundays ABC game against Orlando off than he had been entering Thursday night.
via
azcentral.com blogs - Coros Orange Slices - PaulCoro - Nash hurts, Gortat blurts
.
The
Suns
are starting to crack a little bit under the strain and Nash missing any significant time could be a death knell for their playoff hopes. In the strictest sense, Nash is their best player and most important. Nash played just 27 minutes against the
Nuggets
Thursday, taking only four shots. Perhaps worst of all, the injury
is restricting his abilities
in Dance Revolution. The injury is more than just a normal groin pull and the effect must be considerable for Nash to be discussing missing a pivotal game against a playoff team.
The Suns' goals at this point are a little unclear. Sure, the playoff revenue would be nice, but isn't the long-term health of Nash paramount to obtaining the 8th seed and being swept from the playoff beaches by a superior
Spurs
squad? Then again, Suns' management from ownership down hasn't exactly made a lot of sense over the past few years.