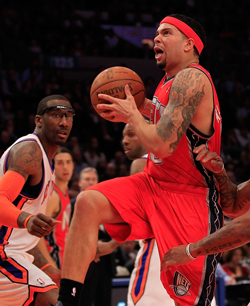 Deron Williams could be considering Dallas in free agency.
(Getty Images)
By Matt Moore
Hold on, let me barricade this post against the
Nets
fans hordes who freak out when you talk about any scenario other than
Dwight Howard
going to Brooklyn. There. Everything has been all quiet on the Dwight Howard front this weekend at All-Star Weekend. No trade rumors, no trade demands, no explosive quotes, no late night meetings between general managers and Howard. But the
New York Daily News
reports of an indication that seems to be gaining steam with a lot of experts, including NBA.com's David Aldridge, among others, that the
Mavericks
are very much in the heart and mind of
Deron Williams
. From the
Daily News
(emphasis mine):
The ultimate disaster for New Jersey would be if Williams and Howard end up playing together, but not in Brooklyn. With some roster alterations that are doable, including using their one amnesty move on Brendan Haywood, the Mavs could be set up, cap-wise, to accommodate both players.
"The Mavs want to do what Miami did and put together their own big three,'' said another GM. "That's their goal."

Williams privately told members of the Mavs last June during their Finals celebration that he would love to go back home and be a part of team with Dirk Nowitzki. But he said Friday he wants to continue to be a Net. So until further notice, the Nets think they still have a good shot to move into Brooklyn with Williams and Howard.
via
Dwight Howard center of attention in Orlando as March 15 deadline to ship
Magic
Superstar looms - NY Daily News.
You'll remember that Ken Berger of CBSSports.com reported last year during All-Star Weekend that Williams had told people close to him he wanted to play in a bigger market. He denied the reports. Then he was traded a few weeks later to the Nets. Williams was indeed in the locker room during the Finals, and his body language certainly indicated a warmth and desire to be a part of the Mavericks.
Know why? They were in the Finals. It could have been Washington Generals and he would have wanted to be a part of it. The
Bobcats
would look good after taking a lead in the Finals 3-2.
Williams is from Dallas, that's where all this starts. A return home would make sense. It would also make sense for Dwight Howard, who wants a big market, to compete for a title, supporting stars, and warm weather. (Howard grew up in Georgia and has played in Florida his whole life; you ever tried randomly trying to adjust from that kind of weather to anything north of the Mason-Dixon? It's a nightmare.) So to review, the Mavericks offer:
A super-active owner who often acts as GM and who has shown a committment not only to spending, but spending wisely.
A Hall of Fame power forward scoring machine who should be able to keep playing for three-to-four more years at a high level.
A large market that attracts a lot of attention from sponsors and benefits as the economic center of a state which is essentially its own country.
A favorable tax situation.
Warm weather.
A return home for Deron Williams.
An organization that has won a championship in the past 14 months.
That's a pretty solid package.
And yet, the Nets remain in the lead for the services of both. It comes down to convenience. The Nets have movable pieces. Even if their trade assets aren't as impressive as some, they can still move them. The Mavericks' are all older players and unproven guys. They have no prime components to send Orlando. Howard is willing to wait till this summer to make his decision. But if he gets it settled sooner, all the better as long as it's the right decision. The Nets have the best chance at getting him between now and the trade deadline, and they believe they have the deal.
But if this thing goes to the summer, if it's a free ageny tour between Brooklyn and Dallas for both players, things could get very interesting. The Nets would do well to make sure Mr. Cuban doesn't get a shot in the competition.
(HT:
IAmAGM.com
)