Posted by Ben Golliver.
Rankings by EOB Staff.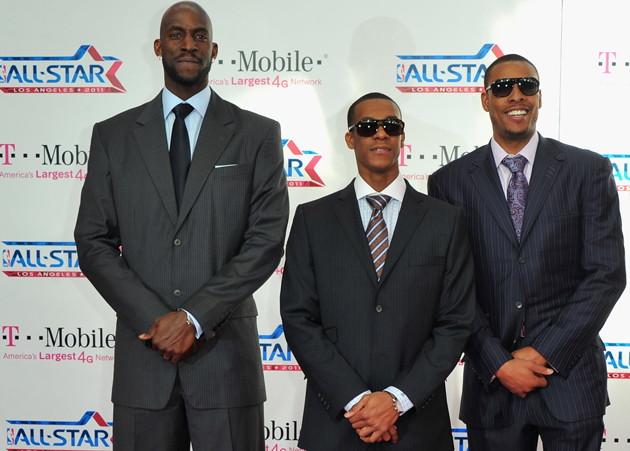 This is the seventh segment of the CBSSports.com Eye on Basketball Elite 100, counting down the top-100 players in the NBA.
Check out the earlier installments: 100-91 | 90-81 | 80-71 | 70-61 | 60-51 | 50-41 | 40-31
Asking Boston Celtics fans and observers to rank the team's players top-to-bottom is a bit like asking a mother to rank her children. With Rajon Rondo ascending and the Big 3 maintaining, simply ranking the team's four All-Stars is a task in and of itself. That job takes on an added degree of difficulty when they face off against their competition around the league.

Three Celtics All-Stars -- Rondo and forwards Kevin Garnett and Paul Pierce -- made our top-30, but none made our top-20, a decision that speaks to the team's balance at the top but also the role that age has played in recent years. Once a perennial top-10 selection, Garnett has slipped a notch, although he still leads the way for the Celtics on this list.

Without further ado, let's dig in.

30. Andre Iguodala, F, age 27, Philadelphia 76ers
2011 Stats: 14.1 points, 6.3 assists, 5.8 rebounds, 1.5 steals, 44.5 FG%, 17.30 PER
Composite rankings (random order): 27, 36, 36
After playing all but six games in his first six NBA seasons, injuries marred Iguodala's 2010-2011 campaign, keeping him out of 15 games and limiting his minutes per game to the fewest he's played since his rookie year. As a result, his numbers took a predictable hit pretty much across the board. Iguodala's reputation as a two-way player is well-earned; his size, strength, quickness and instincts are an exceedingly rare combination.
Persistent trade rumors swirled throughout the season, too, owing to Iguodala's long-term, eight figure per year contract and his tweener franchise guy status: he's paid to be "the man" but not quite transformative enough to pull it off. Until he is moved to a contender with an established top dog, Iguodala will continue to impress outsiders and let down those who expect him to deliver a team to playoff success.
29. Joakim Noah, C, age 26, Chicago Bulls
2011 Stats: 11.7 points, 10.4 rebounds, 2.2 assists, 1.5 blocks, 1.0 steals, 52.5 FG%, 18.83 PER
Composite rankings (random order): 33, 32, 30
Perhaps Noah gets a friendly bump up in these rankings by virtue of playing in the vicinity of the Derrick Rose superstar glow, but he has done plenty to carve out a strong reputation for himself. It starts with doing the things most NBA players don't like to do: crash the boards relentlessly on both ends, cover ground (while talking) on defense, hit the floor for loose balls, make the extra big-to-big pass and exercise restraint when it comes to shot selection.
Given his age, Noah should be a perennial double-double guy for the next 3-5 seasons. That, plus more than a block and a steal per game and 50+ percent shooting is excellent production from the center position.
28. Tony Parker, G, age 29, San Antonio Spurs
2011 Stats: 17.5 points, 6.6 assists, 3.1 rebounds, 1.2 steals, 51.9 FG%, 20.44 PER
Composite rankings (random order): 26, 31, 30
San Antonio's early playoff exit might have caused you to forget that the Spurs were the league's second most efficient offense during the regular season. Parker's well-rounded game – basketball intelligence, shooting, decision-making, pick-and-roll skills, drive-and-kick skills, open court skills – served as the engine in that machine. The elite newer-age point guards boast size/strength combinations that Parker can't match, but he currently inhabits a pleasant nexus between "savvy veteran" and "not yet tailing off physically", so he gives as good as he gets against just about anyone at his position.
The Spurs will never be able to replace Tim Duncan, but they were wise to ride with Parker into the foreseeable future.
27. Paul Pierce, F, age 33, Boston Celtics
2011 Stats: 18.9 points, 5.4 rebounds, 3.3 assists, 1.0 steals, 49.7 FG%, 19.76 PER
Composite rankings (random order): 38, 23, 22
The passing of the Eastern Conference torch from Boston to Miami went down in particularly cruel fashion, with Heat forward LeBron James unleashing a whirlwind to usher the Celtics into the past. Not being athletic enough to keep up with Miami is no real sin, though, as that label applies to 99 percent of the league. Pierce is slower, more ground-bound, less decisive and less explosive than James, but he's still an elite producer at his position, upping his numbers in most categories last season. He can score in a variety of ways, shoots with range, gets to the line and cashes in his free throw opportunities, and is a hard-working defender.
With three years left on his contract, it's certainly possible the Captain becomes a burden on the books. For now, he's steady and solid as always, the same All-Star with the track record for winning, even if his team has finally been overtaken.
26. Nene Hilario, C, age 28, Denver Nuggets
2011 Stats: 14.5 points, 7.6 rebounds, 2.0 assists, 1.0 blocks, 1.1 steals, 61.5%, 20.49 PER
Composite rankings (random order): 27, 29, 23
Arguably the biggest prize in this year's free agent crop, Nene has gotten overlooked to a degree in a crowded Denver frontcourt that always took a backseat to whatever Carmelo Anthony was doing. Now that Anthony is in the Big Apple, Nene's uber-efficient scoring around the rim, high-energy play and overall athleticism look even better, especially if one considers what will be left of the Nuggets should he decide to find a new home.
25. Andrew Bynum, C, age 23, Los Angeles Lakers
2011 Stats: 11.3 points, 9.4 rebounds, 2.0 blocks, 1.4 assists, 57.4 FG%, 21.14 PER
Composite rankings (random order): 28, 22, 28
Nobody in the NBA causes more people to slap their foreheads than Bynum: he's yet to approach his potential on the court, has a lengthy injury history and has repeatedly resorted to some of the dirtiest play seen anywhere in the modern NBA. For all his faults and immaturity, he has shown the ability to be the best center in the NBA not named Dwight Howard by simply overpowering defenders and playing over the top of them, finishing at the rim with an emphatic dunk or a soft touch. He doesn't have ideal mobility but he is still a legit paint presence defensively, even able to control games at times. The progress he's made in expanding his offensive repertoire gives hope for the future, as does his expressed desire to carry more of the load.

Bynum will likely see his ceiling stunted a bit by the final chapter of Kobe Bryant's career, but that shouldn't prevent him from being a perennial All-Star and top-10 player eventually. Only the injuries offer a legitimate roadblock to greatness.
24. Al Horford, C, age 25, Atlanta Hawks
2011 Stats: 15.3 points, 9.3 rebounds, 3.5 assists, 1.0 blocks, .8 steals, 55.7%, 20.79 PER
Composite rankings (random order): 24, 24, 29
Horford is an interesting contrast with Bynum, in that he seems to have figured life out and come to terms with what he will be as an NBA player. An excellent defender whose offensive production doesn't get enough run, Horford should be the centerpiece for the Hawks for years to come. He's managed to improve his scoring numbers during all four seasons in the NBA while keeping his rebounding numbers near the magical double-digit mark. Horford is smart, consistent, has a winning mindset and provides zero distractions off the court. He can pass too.
At 25, he's probably getting pretty close to his peak productivity and isn't – and may never be -- a game-changing No. 1 option on offense. Still, he provides stability and plenty to work around even if he is never able to carry the team out of the massive shadow cast by Joe Johnson's contract.
23. Chris Bosh, F, age 27, Miami Heat
2011 Stats: 18.7 points, 8.3 rebounds, 1.9 assists, 49.6 FG%, 19.44 PER
Composite rankings (random order): 19, 25, 28
The planet Earth sure learned a lot about Bosh this season. Indeed, he probably faced a greater increase in scrutiny than any other NBA player, when he bounced out of Toronto to team up with LeBron James and Dwyane Wade in South Beach. Bosh's game is predicated on outside/inside offensive versatility. He is equally able to knock down a jumper, get to the free throw line, finish a play above the rim and create a bit off the bounce. He's more sinewy than beefy and that's earned him plenty of criticism because he doesn't hold the paint on defense and lacks a true nose for rebounding and dirty work.
Bosh wore goofy outfits, was rightfully cast as a third wheel, got tattooed, got married, and broke down crying in his first year with the Heat. Who knows what the sequel holds?
22. Rajon Rondo, G, age 25, Boston Celtics
2011 Stats: 10.6 points, 11.2 assists, 4.4 rebounds, 2.3 steals, 47.5 FG%, 17.11 PER
Composite rankings (random order): 19, 21, 25
Rondo may very well be the most magical point guard since Magic Johnson, his knack for fitting passes into tight spaces is uncanny and his vision is peerless. At his best, he conducts games rather than simply playing in them, weaving together his teammates in such a way that open shots result. His eye-popping wingspan is matched only by his gambler's instinct, making Rondo an excellent on-ball and off-ball defender. Of course there's the whole business about his shooting, which remains troublesome and limiting, but he compensates with a warrior's spirit and a full understanding of his own limitations. He is the future.
21. Kevin Garnett, F, age 35, Boston Celtics
2011 Stats: 14.9 points, 8.9 rebounds, 2.4 assists, 1.3 steals, 0.8 blocks, 52.8 FG%, 20.67
Composite rankings (random order): 23, 21, 21
Over the past two years, a crop of younger power forwards have surpassed Garnett, whose prep-to-pros jump and heavy minutes as a franchise guy earlier in his career have taken their toll. His body doesn't allow 82 nights of top-shelf performance a season -- it would be next to impossible to manage that at 35 -- but he's still the most feared and hated player in the NBA. His length and understanding of positioning create endless problems for his opponents and his basketball intelligence and leadership making the game easier for his teammates. His trusty jumper has kept him an offensive force and he can be paired with all sorts of lineups – big and small – thanks to his face-up game, passing skills and mobility. While Garnett is no longer a player capable of carrying a team to a title, he's still the last guy you want to play against.