Posted by Royce Young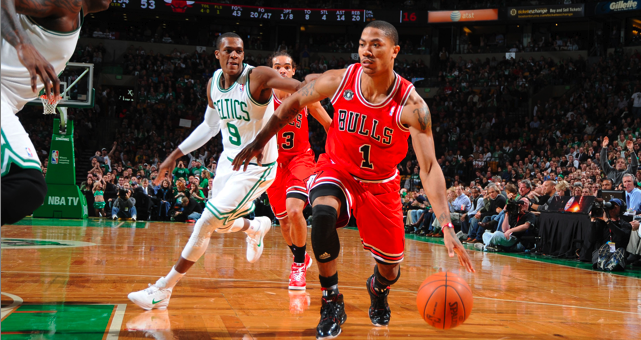 It's April. That's not an April Fools joke. It really is April.
That means mid-way through this month, about half the league will be done playing. And the other half's season will just be starting.
The NBA playoff picture is kind of like one of those 3D images where you have to cross your eyes to see it. It's all coming together, it's all becoming much more clear. We've almost zeroed in on the 16 teams that will be standing come April 16, but the back ends of the East and West still need some settling.
The most contested races right now are the crawl to eighth and the fight for second in the East and the battle for second and eighth in the West. But, really, nothing is all that certain. Let's try and clear this fuzzy playoff picture.
EASTERN CONFERENCE
Battle for the top: Chicago (55-20), Miami (53-22, 2.5 back of CHI), Boston (52-23, 3.0 back of CHI)
It's a three-team race for the top spot in the East, with the
Bulls
appearing to have a pretty good grip on the situation. The
Celtics
have been slipping after appearing to have quite the handle on things. Then they traded
Kendrick Perkins
, everyone cried and things started to go bad.
Of course the
Heat
are lingering and a favorable schedule, they could realistically win out. That could very well slide them into at least the two spot and maybe push the Bulls for the top. Wouldn't that be something.
But it really looks like this is Chicago's conference to lose. The Celtics being three back is a pretty big gap to close and even with the Heat's nice schedule to close, the Bulls are just playing too good right now. They'll likely finish the way they stand now with it going Chicago, Miami, then Boston, which of course would mean the Heat would play New York in the opening round. That'll be fun.
Looking locked in: Orlando (47-28), Atlanta (44-32, 4.0 back of ORL)
There is a chance that Atlanta catches Orlando for the four-seed. It's about as likely as Robert Tractor Traylor staging an NBA comeback, but it's possible. The
Magic
currently hold a four-game lead over the
Hawks
, but Orlando's schedule of seven games is pretty easy to close.
The Hawks are finally playing some decent basketball and their 85-82 win over the Magic and a big 88-83 win over the Celtics Friday will be big confidence boosters leading in to an opening round series with Orlando. It looks like Atlanta will concede home court to the Magic, though. Everyone remembers the absolute destruction of the Hawks by Orlando in the opening round last season, and it didn't matter if those games were played on the moon, the Hawks weren't winning. Maybe things will be different this year, but I think we can be pretty sure this is the 4-5 matchup in the East.

Light jockeying: Philadelphia (34-36), New York (37-38, 2.5 back of PHI)
It's funny to look back at things people like me were writing after the
Knicks
acquired
Carmelo Anthony
. I actually questioned if the Knicks were contenders
this year.
We were all wondering if the Knicks could move up from six to maybe five and maybe even four. Now they're holding on to seventh with an outside chance to get to six.
I suppose there is even a chance the Knicks could go the
other
direction too. And, realistically speaking, they could still fall out of the playoffs entirely as they're only up 4.5 games on the
Bobcats
with seven to play. An unlikely fall, but certainly possible, especially with this erratic bunch. I think if you gave the Knicks another month they'd definitely be a candidate to drop out -- or maybe even rise some. Really, this group is hard to figure.
Philadelphia holds a two-game lead over the Knicks for sixth and with the way the two teams are playing, it looks pretty certain that that's the way they'll finish. They play each other one more time next week, so that game could be the decider.
The ugly dog contest: Indiana (35-42), Charlotte (32-43, 2.0 back of IND), Milwaukee (30-45, 4.0 back of IND)
This is where these three teams have to stop and ask themselves a very important question -- What's better for us: A first-round playoff exit and the money we make from two extra sold out home games, or a lottery pick and chance at good player?
Let's look at the three:
Indiana:
It's definitely in their best interest to go ahead and get to the playoffs. For one, they've held the eighth spot for a large portion of the second half of the season, so falling out would feel kind of like a choke of some kind. Not really because when you're eight games under .500, you sort of choked the entire season anyway and just had the good fortune of playing in the East.
But they've built some decent momentum the last two months under interim coach Frank Vogel. And, behind the improvement of
Tyler Hansbrough
and
Roy Hibbert
plus some good players like
Danny Granger
and Darren Collison, the
Pacers
could win a game. Making the playoffs would serve them better than getting another young player to develop. They already have enough
Paul George
's.
Charlotte:
They should tank away. They've won four straight and are just a game back, but they tried to mail in this season at the deadline when they gave away
Gerald Wallace
for very little. The Bobcats need more young talent and need to start building. A playoff berth really does them very little.

Milwaukee:
It doesn't matter. The
Bucks
already have been one of the season's bigger disappointments, so if they made the playoffs at least they'd have that to feel better about. Then again, they're going nowhere and could always use that higher pick to try and snag an offensive player.
The Bobcats probably have the toughest schedule which hurt them Friday losing to Orlando and the Pacers picked up a big one-point win over Milwaukee as well. It sort of feels like Charlotte is headed for the berth for some reason even though the Pacers definitely want it the worst. And Friday night's results go a long way toward helping Indiana's bid. Whatever the case, this whole thing is pretty ridiculous.
WESTERN CONFERENCE
The unexpected race for No. 1: San Antonio (57-19), Los Angeles (55-20, 2.5 back of SA)
Three weeks ago, the top spot in the West appeared to be a foregone conclusion. The
Spurs
were easily the best team in basketball -- record wise -- and were going to cruise to the No. 1 seed by six or seven games.
Then
Tim Duncan
got hurt. And then the Spurs dropped six in a row while the
Lakers
were running off nine straight. Then the gap closed to just 1.5 games with two weeks to play and both teams headed in different directions. Suddenly the Lakers actually had control of their own destiny to win the West.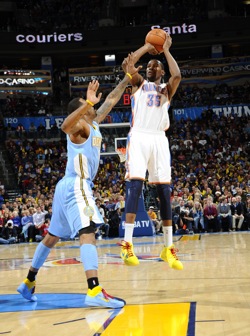 Thing is, the Spurs aren't going to panic. They aren't going to worry about losing that lead. And if they do, they can live with it. That roster is too veteran, too mature and with Gregg Popovich, there's no anxiety there. Besides, I don't think they really care all that much about the difference between one and two, other than having that home court advantage over the Lakers.
The Lakers and Spurs do play one last time on April 12, so that game could be one to watch. But in all likelihood, the Spurs will regroup and finish up just strong enough to lock up the top seed.
The right to play L.A. in the second round -- or maybe the Spurs: Dallas (53-22), Oklahoma City (50-25, 3.0 of DAL)
The
Mavericks
are really in an interesting place. Technically they're just 1.5 back of the Lakers for second, but after Thursday's beatdown and the fact L.A. is the hottest team in the league, it feels like that race is over.
And now Dallas has to look over its shoulder just a bit at the
Thunder
who have been storming (see what I did there?) the past month (14-2 in March). The gap is 2.5 which is pretty big with only seven games left and most of the games on the road for OKC, it'll be difficult to catch Dallas.
Probably better for the Thunder too seeing as I think they'd prefer to have San Antonio in the second round instead of the Lakers. (Ironically if the Spurs keep losing, they might have to get to three. This is so confusing.)
OKC matches up much better with both since the Kendrick Perkins trade, but the Thunder has a better chance versus the Spurs to advance. Dallas is probably thinking the same thing though, especially after Thursday.
Locked in, sort of: Denver (46-29)
The
Nuggets
have been just outstanding the last month. Think about the mood after they dealt Carmelo Anthony. Most felt like an extra playoff spot had opened up in the West because it was a sure thing Denver would drop out.
Instead, they went up.
And if it weren't for the Thunder playing such fantastic basketball, the Nuggets would be pushing hard for the Northwest Division title and four-seed. But it doesn't look like they'll catch OKC who have a five-game lead. The Nuggets and Thunder do still play twice though and with the series at 1-1 this season, Denver could take the tiebreaker.
It's unlikely Denver would drop behind New Orleans (3.0 back) or Portland (2.5 back), but the Nuggets can't just coast into the five-seed. They appear to match up pretty well with OKC and would likely rather have the five-seed over six versus the Mavericks or seven versus the Lakers.
A real derby:
Portland (44-32),
New Orleans (43-33 (1.0 back of POR), Memphis (43-33, 1.0 back of POR), Houston (40-36, 3.0 back of MEM and NOLA)
After a very important Friday, the Blazers moved to sixth, the
Hornets
dropped to seven where they're tied with Memphis. The
Rockets
picked up a major win against San Antonio to stay three back of the eight spot.
Obviously the Hornets have an uphill battle to fight sans
David West
. Losing their best scorer is a major, major blow and one that will likely drop them down. Then again, so far without West the Hornets are 2-2 with a big win over Portland Wednesday. There was a bit of worry New Orleans could lose its playoff spot, but three games is a lot for Houston to make up in two weeks (though they do play one more time).
Portland really seems like the team set to get the six-seed. They have the most remaining healthy talent (that's a funny thing to say), are playing really well and don't have a killer schedule to finish. With a nice 99-91 win over the Thunder Friday, Portland finally reclaimed that six-seed and I don't see them losing it from here on out.
Memphis has a chance to either make up serious ground or lock themselves into eighth. The
Grizzlies
beat the Hornets Friday to knot things up and have one more New Orleans and one against Portland remaining.
And then Houston. I'm keeping them in the mix but a three-game deficit in six games is a lot to make up. The Rockets made their bed in November with their awful start.
Here's how I see this playing out: Portland is getting the six. They're too good, don't have a challenging schedule and have a lot of incentive to get the six because they match up well with Dallas. New Orleans, is falling. The Hornets are going to lose both games to Memphis and drop to eighth. Which is probably a blessing in disguise because they match up much better without West against the Spurs than they do against the Lakers.
And the Grizzlies will settle in at seven, playing the Lakers who they actually match decently against with
Zach Randolph
and
Marc Gasol
inside. Give Memphis
Rudy Gay
for this series and I honestly see it going seven.
Right now, 20 teams are still in the playoff mix. In two weeks, it'll be down to 16. Sad that maybe the best race is between three teams a combined 30 games under .500. Such is life in the bottom half of the East.