Miami Heat forward Juwan Howard says he plans to appeal his fine for a recent scrap with the Washington Wizards. Posted by Ben Golliver.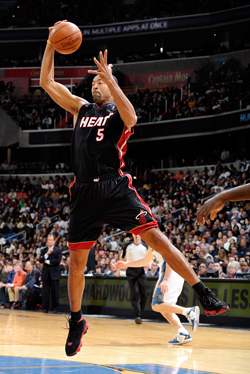 Back on Wednesday night
, Washington Wizards point guard
John Wall
punched Miami Heat center
Zydrunas Ilgauskas
. While the blow barely faced Ilgauskas it did set off a chain reaction of pushing and shoving that would up seeing Wall, Ilgauskas and Heat forward Juwan Howard ejected from the game.
On Thursday
, the NBA suspended Wall for one game and fined both Ilgauskas and Howard.
On Friday,
Howard told the Sun-Sentinel
that he plans to appeal his $35,000 fine because he didn't think he should have been ejected in the first place and because he thought the amount of the fine was "very harsh."
"I wouldn't regret doing it if I had to do it again," said Howard, who said he merely was trying to protect a teammate. "Unfortunately, I just thought that the penalty was very harsh."
"I respect the fact that the NBA, of course, wants to take a stance as far as cleaning up the game," the veteran forward said, "but, unfortunately, a situation like that happened. Hopefully, we don't have to deal with it again.
Howard, who at 38 years old is one of the league's oldest players, has likely reached the point where this is all about principle. More power to him for standing up to the league office and exercising his right for a review.
With that said, the judgment handed done seemed to be fairly consistent with other recent situations involving escalation. These situations do seem to be a point of emphasis for officials and the league, who are looking to crack down on the aftermath as much as they are the original hard fouls.
Or we could look at it this way: Howard is so old that he has
a son in college
. $35,000 is a year's tuition! Of course he's going to appeal.