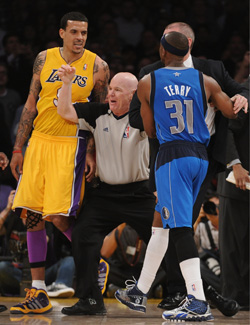 Lakers are pretty happy with their fights and ejections in blowout win over Mavericks.
Posted by Matt Moore
As we brought you Thursday night, the Lakers and Mavs had an ugly
little set of tussles
resulting in multiple ejections, starting with
Jason Terry
shoving
Steve Blake
and followed by
Matt Barnes
shoving down
a Mavericks assistant.
Turns out the Lakers are pretty proud of themselves for standing up to 6-2 Jason Terry and an assistant coach. From the
Los Angeles Times
:
"I think we all reacted well," said Pau Gasol, who had 20 points -- a correction from the original stats, which had him with 19 -- as well as seven rebounds. "The bench kept its cool, and the guys on the floor did what they had to do. Basically, they just stood up to what was in front of them. They werent trying to create anything.:"It was good to see our guys handled it pretty well."

The way that Barnes intervened in Blakes incident -- and Brown drew his ejection after a play in which Gasol was knocked down by Ian Mahinmi -- was a positive sign, in the mind of Kobe Bryant.

"It brings us closer together," he said. "Its as simple as that. We cant go for that, man."
via
Lakers 110, Mavericks 82: Wild night at Staples - PE.com - Professional Sports
.
In reality, the Lakers did need to stand up for Blake. Terry did shove Blake unprovoked and it's important to send messages. But it's that constant talk of message sending that shows a lot about the Lakers' identity when it comes to toughness.
The Lakers have had their toughness questioned since 2008 when the
Celtics
bullied them in a dominating six-game set. Since then, despite two titles, including one over those same Celtics, questions have remained about the Lakers' toughness. Most of this stems from Pau Gasol being a traditional "soft Euro" which usually just means he's really good at basketball. The addition of
Ron Artest
was seen as a move to improve the toughness of the team, and Barnes was brought on in the same vein. This of course ignores the fact that basketball is a game of who can put the ball in the hoop the most, not who's the biggest and baddest, but playoff basketball preaches that you need that level of aggression.
The Lakers seem to have found it. If
Andrew Bynum
's massive frame wasn't enough to dissuade teams from wanting to mix it up physically, the Lakers have shown they are willing to engage.
Literally everything is going L.A.'s way right now.