Washington Wizards point guard John Wall was suspended one game for an incident that occurred in a game on Wednesday night. Posted by Ben Golliver.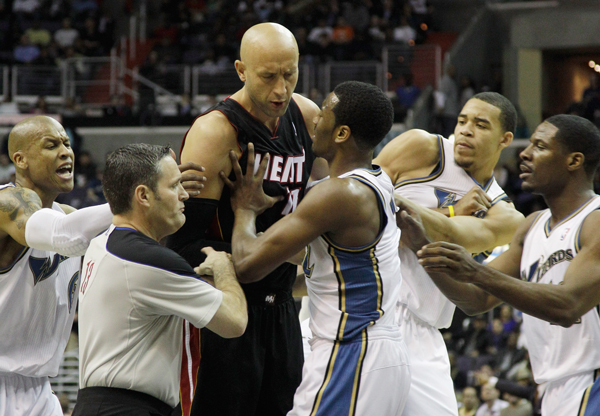 On Wednesday night
, Washington Wizards point guard John Wall threw a punch at Miami
Heat
center
Zydrunas Ilgauskas
, which set off an altercation that involved Wizards center
JaVale McGee
and Heat forward
Juwan Howard
.
On Thursday, the NBA announced that Wall would be suspended over the incident. The league further ruled that Ilgauskas and Howard would be fined.
John Wall of the Washington Wizards has been suspended one game without pay, and Juwan Howard of the Miami Heat has been fined $35,000 for their roles in an incident during a game on Wednesday, March 30. Additionally, Miami's Zydrunas Ilgauskas has been fined $25,000. The penalties were announced today by Stu Jackson, NBA Executive Vice President, Basketball Operations.
Wall has been suspended for his Flagrant Foul, Penalty Two, which included throwing a closed-fist and forearm into the midsection of Ilgauskas, and Howard has been fined for escalating the altercation. The incident occurred with 8:48 remaining in the second quarter of the Heat's 123-107 victory at the Verizon Center in Washington, D.C.

Ilgauskas, who received a Flagrant Foul, Penalty Two, for an elbow to the face of Wall, has been fined for making an obscene gesture following his ejection.

Wall will serve his suspension on Friday, April 1 when the Wizards host the Cleveland Cavaliers.

The Wizards are way out of the Eastern Conference playoff chase so the suspension is meaningless from a basketball perspective. For Wall, this is simply a sign of youthful frustration. While his defenders will paint this as Wall's attempt to establish that he won't be punked by veterans, established stars in the NBA never, ever respond to something as common as a swinging elbow by throwing a close-fisted punch during the second quarter of an unimportant game in March. Wall's actions proved nothing except that he is easily rattled, and they left his team without its best player.
Wall, the 2010 No. 1 pick, is better than this mess. Hopefully, the time off will help him see that.