Gregg Popovich and Tom Thibodeau have coached brilliantly this year. But who's the NBA Coach of the Year?
Posted by Matt Moore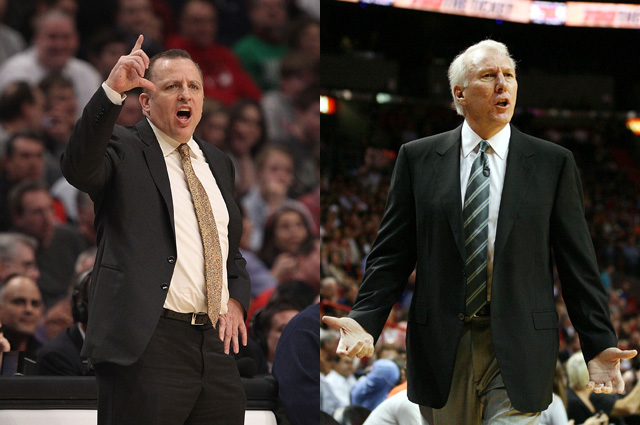 They're wrong, you know. Five things are actually certain, not two. Death, taxes, Gregg Popovich will verbally tear you in half should you make an egregious mistake on the floor for him, and Tom Thibodeau will do the same, but be even louder when he does it. The fifth thing? One of those two men will win the 2010-2011 NBA Coach of the Year Award.
As is the case with any award, particularly this year, there's no shortage of worthy nominees for Coach of the Year. George Karl comes to mind first. After all, he held a fractured, pressured locker room together through the insanity of the Melo saga, then turned a team without a superstar into the fifth seed, one who no one wants to run into in a dark first-round alley.
J.R. Smith
may be his best scoring component, his point guard is in his third season and two of his best frontcourt defenders are best known for their insane map of tattoos. Karl has done a great job.
Another head guy that pops up is Lionel Hollins. Hollins has the
Grizzlies
in the playoffs despite a roster with considerable shortcomings, almost entirely made up of youngsters, and now without its highest paid player with
Rudy Gay
on the shelf.
Zach Randolph
is a team leader.
Tony Allen
is the emotional spark. And the squad that was one of the worst defensive teams in the league last season is all of a sudden a ball-hawking terror on the defensive end. Hollins has been superb.
Doug Collins is going to sneak under the radar. The Sixers had a disastrous start. It was truly horrible. Then, they got better. Much better. And all of a sudden, they're the team who is rocketing towards clinching the playoffs with a tough schedule, an over-the-hill star in
Elton Brand
, and a jack-of-all-trades, master-of-none best player in
Andre Iguodala
. Collins has come out of nowhere to do a bang-up job.
But in reality, this comes down to those two guys. The two best teams in each conference. But to see the real reason the award comes down to these two, you have to go far beyond the record. And you have to go even beyond that to find who deserves it more between the two basketball geniuses.
No one saw this coming from San Antonio. They were supposed to be a playoff team, sure. But there was no indication that this season would find the
Spurs
winning.. and winning... and winning. What Popovich has done is taken a team that was between identities last season and shifted it into a juggernaut. Most people found the re-signing of
Richard Jefferson
preposterous in light of his contributions last season. Instead, Popovich turned Jefferson into a corner shooter, having him fill the role that so many veteran wings have taken, that of the long, defensive wing who spots-up for kickouts upon drives from
Tony Parker
and
Manu Ginobili
, and on kickouts from
Tim Duncan
. Popovich has created an offensive juggernaut, which was tops in offensive efficiency for most of the season (until the aforementioned George Karl's
Nuggets
started tearing up opponents).
George Hill
,
DeJuan Blair
,
Antonio McDyess
, even
Matt Bonner
? These are all parts of the offensive albatross Pop put together out of the ashes of a second-round flameout squad. Yes, the health of the Spurs has helped, and yes, the defensive prowess hasn't been as impressive as previous Spurs teams'. But the proof is in the pudding. Popovich not only pushed the Spurs to topple nearly every team they came across, but kept on them through the dregs of January and February. It's only been in March, against elite playoff teams and dealing with injuries as the team starts to coast towards the playoffs, that the Spurs have shown any vulnerabilities in terms of overall performance.
Maybe most impressive about Pop's work this year, however, is his ability to get outside of his traditional framework. Instead of blasting his team into smithereens when it's winning about its poor defensive performances, instead Popovich pushed the offense more. He's still cranky about the defense; he's Pop. But he also understood as he always has that winning is what matters in this league; it's results that you're judged by in this league. As the Spurs take on the
Celtics
Thursday night, the contrast is clear. Both Popovich and Doc Rivers have had to deal with new elements built around the same core, and new identities wrapped around the same principles. But while Rivers' Celtics remained a top team for most of the season, but still struggled to understand who they were as a team, Popovich's Spurs have simply kept speeding forward, destroying whatever was in their way, until just recently. If the defense were a little bit better, or had they driven right through the injuries to Tim Duncan and Manu Ginobili, there'd be no doubt that this would not only be the best coaching work of Pop's career in a regular season, but one of the better performances by any coach, ever.
If only.
But it's those same reasons that we look across to the other conference, and see the barking, hoarse-voiced rage of another genius, whose team is similarly unbalanced, and yet nearly as successful. Chicago is 54-20, three games behind San Antonio for homecourt advantage throughout the playoffs. Tom Thibodeau has been everything many thought he'd be in his first year in Chicago, and more. He's combined the raw emotional challenge of Doc Rivers, with the cold, ruthless tactician work of Popovich in previous years. He commands the best defense in the league, on a roster that features
Carlos Boozer
and
Luol Deng
in a prominent role. Boozer, Deng, Korver, Rose, Bogans, the list goes on and on of average-to-subpar defenders who all of a sudden are part of the fiercest trap in the league, the stiffest challenge at the rim, the quickest swarm to a loose ball. They are ball-hawks and charge-takers, dunk-stoppers and steak-makers, and they are constantly, constantly, constantly working to help one another to close any holes in their defense.
Thibodeau has the
Bulls
believing in themselves, 100 percent convinced that there is no limit to how far they can go. Playoffs? Who cares about making the playoffs. Let's talk about winning the championship. Not in a year. Not in a few years. Now. They buy in, completely and totally, to the team concept, to the defensive principles, to the guidance of their coach and the leadership he's instilled in his star point guard.
Ah, Rose.
To give Thibodeau credit is as short-sighted as giving Rose credit for the Bulls' defense. In reality, both have excelled by letting the other do their thing. Coaches are often attributed with the success of improving a player, ignoring the work done in the offseason and the fact that so often, these star players simply break off the play and go be their awesome selves. Thibodeau has been honest about his approach. The Bulls' offense isn't a juggernaut, even within the Eastern Conference and certainly not when stacked up against San Antonio's. But it gets the job done, because Thibodeau has taken a hands-off approach. He trusts his players to execute, and trusts his star point guard to make plays. How often do we see coaches doom their teams by demanding they play within the system? Thibs merely asks them to commit to his proven defensive principles, and in return, gives them the freedom to be the players they are. It's a strikingly simple approach that makes you slap yourself on the forehead and ask why no one thought of this before.
While Popovich has enjoyed the luxury of having his team healthy and complete for most of the season, Thibodeau has led the Bulls to this point despite missing Carlos Boozer for months, and
Joakim Noah
for weeks. The Bulls have played few games with a full roster, yet here they are. It's a testament to the ability to not only work around roster holes, but to develop a system which makes no individual player essential to the success of the team. Watch the Bulls. It's not the personnel that makes them an awesome force on defense, it's the wholesale commitment to the act. There's no uncertainty when they trap the ball-handler on the wing off the pick and roll, no hesitation when the weak-side defender rotates to cut off perimeter penetration. There's confidence, assurance, belief in their teammates, in the system, in their success.
Coach of the Year is a regular season award. To try and judge these two based on their playoff prospects is short-sighted and complicated. Instead, it comes down to which team has been more impressive with the hand they've been dealt. And considering the cards and how he's played them, there can be no doubt. Tom Thibodeau is the 2010-2011 NBA Coach of the Year.