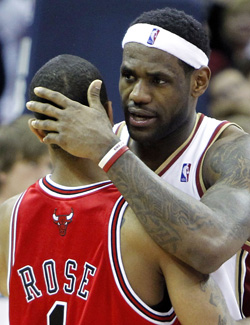 LeBron James endorses Derrick Rose for MVP for obvious, and not so obvious reasons.
Posted by Matt Moore
In what has become a fairly vicious
MVP debate
between supporters of Derrick Rose and
Dwight Howard
, Rose has had several clear advantages, one of them being "endorsements." If we admit that the MVP is a popularity contest, which of course it is, endorsements from notable people in the game are as powerful as they are in politics. On Wednesday, Rose picked up another one, from the defending MVP, LeBron James.
James
told reporters prior
to the
Heat
's game against the
Wizards
that Derrick Rose is his MVP.
The endorsement isn't surprising based on multiple factors. One, James is
just
smart enough to know not to push himself for the award. Second, Rose is a friend, part of the Calipari string of pro point guards that James has gotten to know over the years. And third, Rose isn't Dwight Howard, who James has developed a rivalry with based on playoff series and the
Magic
being a divisional opponent. Howard has been public in his criticism of the Heat and the attention paid. That probably tied into LeBron's decision to publicly back Rose.
But at the end of it, Rose is just more James' style of player. A perimeter whirling dervish of offensive firepower in a
Bulls
uniform. Doesn't take much knowledge of James' history to know that fits in strongly with his own preferences.
Rose now has endorsements from the former MVP, Michael Jordan, and Stan Van Gundy, among others. There's been little evidence that the voters will break rank with the greats of the game to endorse Howard, no matter how much evidence may exist to make it a competitive race. Rose is quite simply an incredible player with a great story and all the momentum.