The Utah Jazz have reportedly scouted BYU star Jimmer Fredette at least 10 times in person. Will they draft him? Posted by Ben Golliver.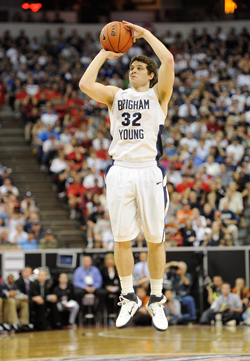 Should the Utah Jazz draft BYU star Jimmer Fredette? Of course they should.
He's a regional icon, he has a defined NBA skill in a draft without many players who fit that bill, he has accumulated a certain starpower that the new-look Jazz are badly lacking and he fits the Jazz culture to a T. With two lottery picks in this year's draft -- thanks to a midseason shake-up that sent franchise point guard
Deron Williams
to the New Jersey
Nets
-- the Jazz are positioned better than anyone else to absorb any risk factor that might accompany a player like Fredette, who plays questionable defense and is a shoot-first, shoot-second type of college guard that can struggle adapting to the pro game.
The Salt Lake Tribune reports
that the Jazz are apparently interested in Fredette and have extensively scouted him.
Twenty-eight of the 30 league clubs requested credentials at the Marriott Center this year, and the Jazz were foremost among them. Their personnel, including Kevin O'Connor, have watched Fredette play in person between 10 and 20 times. At least 25 scouts were on hand when BYU played at San Diego State.
One team executive who requested anonymity because he's not permitted to comment on prospects says Jimmer's offense is a go, but his defense is a real concern.
The Jazz organization is in a place that it hasn't been for decades: searching for an identity. With long-time coach Jerry Sloan gone, with Williams gone, with new coach Tyrone Corbin still getting his sea legs and with a roster that suddenly looks mish-mashed, the Jazz are staring at a future filled with fourth place finishes in the Northwest Division.
That reality means the Jazz either need to do something to win fans' hearts or win games. Jimmer can certainly handle the hearts in the short-term. Drafting a guy to buy rebuilding time isn't always the wisest decision, but here it makes a lot of sense.