Posted by Royce Young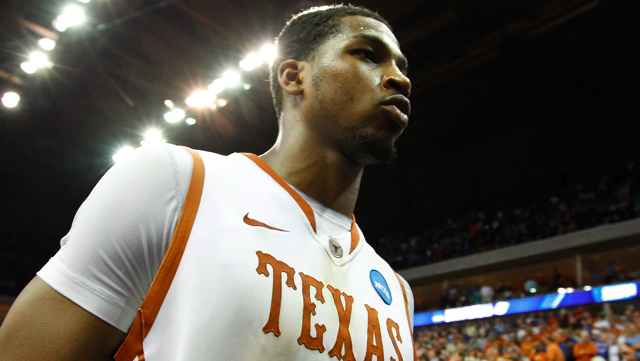 Jared Sullinger might be coming back, but a lot of other college players aren't. And Sullinger's return could be setting off a domino effect among other college big men now curious about testing where they could land.
The names are already popping up in piles of who are declaring themselves eligible for the NBA draft (the deadline is April 24). Here are some of the recent ones:
Tristan Thompson, F, Texas:
According to NBADraft.net,
Thompson has already signed with an agent. There is a little conflict here as Thompson told reporters that he would return to school. So we'll see. Thompson is a 6-9 power forward with a raw offensive skill set, but a terrific motor and great instincts. His best quality is on the defensive end where he's a good shotblocker but better one-on-one defender. Just look at how he handled Derrick Williams in the round of 32. He's projected to go in the 10-20 pick range.

Ashton Gibbs, G, Pitt:
Via our own Gary Parrish,
the Pitt sharpshooter has declared but will not sign an agent. As Parrish importantly notes, a lot of these "declarations" don't mean anything. Unless the player signs an agent, his amateur status is still intact and he can return to school. And Parrish says that's likely the case with Gibbs. "I think he just wants to get some workouts in with NBA teams," a source told him.
Thomas Robinson, F, Kansas:
According to NBADraft.net,
the 6-8 Jayhawk power forward/swingman will make himself eligible for the draft. If you recall, Robinson tragically lost his mother during the season and has younger siblings. Right now, projections have him going in the late first round.
Jordan Honeycutt, F, UCLA:
Via ESPN LA,
Honeycutt will enter the draft saying, "I think it's in my best interest to enter the draft." Honeycutt is a sophomore and isn't a guaranteed first rounder with most projections having him landing in the late first or early second round. He's exactly the type of player that likely would be served much better by coming back for another year (think
Daniel Orton
). Honeycutt is a 6-8 sophomore and averaged 12.8 points and 7.2 rebounds for the Bruins last season

Jordan Williams, C, Maryland:
According to NBADraft.net,
Williams will "test the waters" and hasn't signed with an agent. Williams is a bubble first rounder, but at 6-10, he could make for a good project. More than likely though, he'll return to school for another season. But what I think you're seeing with some of these big men is again, the effect of Sullinger returning. Because a top three big man isn't entering, it makes others think their value has increased.
Iman Shumpert, G, Georgia Tech:
Shumpert announced his intention to test the draft waters on Twitter. He's an older player as a junior and not someone that's necessarily intrigued scouts the past few years. He's a stellar defensive guard, but lacks the offensive game to really make an impression at this point. Right now, projections have him solidly in the second round.
Malcolm Lee, G, UCLA:
The junior guard raised his profile a bit in the NCAA tournament, playing very well against Michigan State.
And according to NBADraft.net,
Lee's father said he's in this year's draft. Lee had minor knee surgery recently but that shouldn't affect anything. He's a solid slasher and scorer that's projected to be a late first round guy.
Nikola Vucevic, F, USC:
Vucevic is officially in as he's hired an agent. He's a probably late first round to early second round guy. He's a good sized forward at 6-9 that can play on the perimeter. He's also pretty strong though. He's still a little raw offensively otherwise he'd be a first round lock.