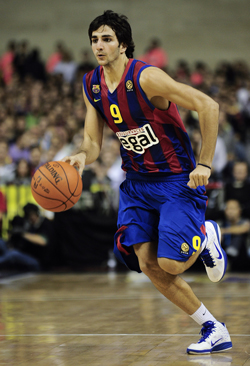 Posted by Royce Young
Via The Pioneer Press,
there's a chance
Ricky Rubio
could finally join the Minnesota Timverwolves. A
chance.
Better than where things have stood before though.
"A little birdie says the Minnesota Timberwolves have received word from Rubio's family that he's open to signing with them for next season -- if there is a season," the report says.
I really don't know what else to add to that. It's probably unlikely that he does sign with the Wolves. Of course he's "open" to it. Heck, I'm open to signing with the Wolves next year.
But this is at least some sign of encouragment on the Rubio front for the Wolves. Lately it was really looking like Rubio had no interest in coming over any time soon. So the fact he might at least be open to it is progress.
The lockout situation is the biggest hangup to everything because of course Rubio has no reason to come over if there's no basketball. He'll just stay right where he's at and keep making money and playing.
It's best for Rubio to certainly take his time in figuring out what he wants to do. The Wolves spent their No. 5 overall pick on him in 2009, so they want him. David Kahn has always been adament about wanting him. But it might just take a little more time.
There was talk of Rubio not ever wanting to play with Minnesota, so again, if this report is true, Wolves fans (and Kahn) have to be encouraged. Rubio was a pretty big risk to take and not many expected him to balk at coming over. Then again, not many expected Kahn to spend his next pick on another point guard either.
Rubio has always held the cards in this situation and it's up to him when he's ready. He's just 20 years old though. He has a long basketball career ahead of him still and he's in no rush to make a rash decision. Obviously.