Heat forward LeBron James says Miami's visit to Cleveland to face the Cavaliers on Tuesday can't be as bad as the first time around. Posted by Ben Golliver.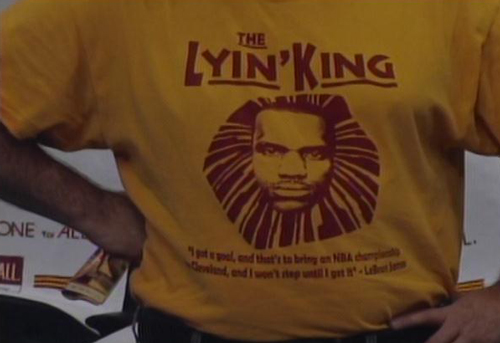 Back in December, Miami Heat forward LeBron James made his first return to Cleveland to face the Cavaliers. James was booed like crazy,
taunted with t-shirts and signs
, but ultimately helped the Heat defeat the Cavaliers.
The Heat make their second trip to Cleveland on Tuesday and
James told the Sun-Sentinel
that he thinks the worst is behind him now.
"It can't get no worse than it was December 2nd," James said, as he prepared for his second homecoming. "I know that. I know that for a fact."
"The best thing about last time, it was a back-to-back," he said. "This time, we get in a day early, so I get the opportunity to go home and spend some time with my kids, spend some time with my friends and family who I haven't seen back home in a while."
James sounds like he's almost looking forward to the trip this time, when last time around he was clearly nervous and apprehensive (and rightfully so).
The best quotable about Tuesday's game, without question, goes to Cleveland Cavaliers coach Byron Scott, who just makes his team sound so pitiful.
"I know it will be different," Cavaliers coach Byron Scott told reporters in Cleveland. "The next time we played them in Miami, it was different, it was a much more physical, more aggressive and tighter.
"Like anyone who runs into a bully the first time, you pee down your leg. Then you realize, the bully ain't that tough and you stand up to him."
Back in December, the Cavaliers, despite getting steamrolled, still resembled a professional basketball team. Now? They hold the worst record in the NBA, traded away their best remaining healthy player and have watched seemingly half the roster go down with various injuries. In other words, the Cavaliers are set to realize on Tuesday, once again, that the bully really is that tough.