Assuming they get Tim Duncan back healthy, the Spurs are eying a Western Conference Finals date with the Los Angeles Lakers. Posted by Ben Golliver.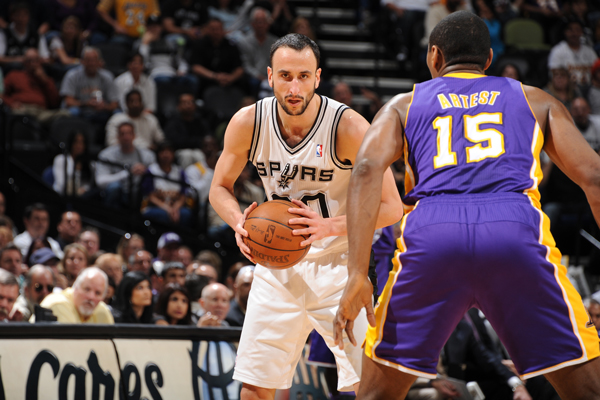 When the San Antonio Spurs contingent descended upon All-Star Weekend back in February, their message was unanimous: Our luck avoiding injuries has been incredible, and we just hope it lasts. "Honest to God, you look over your shoulder thinking something's got to happen," coach Gregg Popovich joked to reporters in Los Angeles.
Well, something did happen. Franchise big man Tim Duncan, the engine of more than a decade of Spurs dominance, severely sprained his ankle last week. For the team with the league's best record, Duncan's absence has prompted a total reevaluation. Point guard Tony Parker summed it up recently, telling the San Antonio News Express that San Antonio is "not going anywhere in the playoffs without him." That, evaluation, of course, is representative of the perputally high standards in San Antonio, one of the rare NBA cities where advancing to the second round of the playoffs isn't a triumph.
Parker's statement made it clear, if it wasn't already, that San Antonio has sky-high internal expectations this season. As they should. Despite a two-game losing streak, the Spurs possess a league-best 57-15 record, a stunning figure given the lack of name players complementing the longtime core trio of Duncan, Parker and Manu Ginobili.
The Spurs have succeeded by owning the fundamentals and mastering the basics with a consistency that's unrivaled in today's pro game. They move the ball brilliantly and unselfishly, confidently and purposefully. They move without the ball aggressively and always with the team concept in mind. Their perimeter players are extremely disciplined, feasting on the clean looks created by the ball movement and Parker's ability to probe defenses off the dribble (17.4 points and 6.6 assists a game). The Spurs can still dump it in to Duncan (13.3 points and 9.0 rebounds per game) and expect him to deliver when it matters and Ginobili remains one of the game's best late-game decision-makers (18.0 points and 5.0 assists). Together, it's made for the league's second most efficient offense through Sunday, a unit that scores more points per possession than both the star-laden Miami Heat and the defending champion Los Angeles Lakers. This is "fives fingers equals a fist" offense at its best.
Defensively, San Antonio is the king of getting your hopes up on paper: Duncan's lost a half-step, power forward DeJuan Blair is undersized, wing Richard Jefferson is past his prime, and Matt Bonner is Matt Bonner. And yet their commitment to team defense, their uncanny ability to take away their opponents' first option, and their opportunistic ability to push out in transition off turnovers have combined to make this a nearly elite defensive unit that's earned respect around the league, even in Duncan's absence. "They do a good job of rotating. Just that experience that they have, they have won a lot of championships, they know how to adjust in-game really well," Trail Blazers guard Brandon Roy said before Friday night's game against San Antonio in Portland.
The juggernaut has just one real weakness: interior depth. A big man rotation of Duncan (28 minutes per game), Blair (21.8 minutes per game), Bonner (21.6 minutes per game), veteran forward Antonio McDyess (18.5 minutes per game) and promising but minimally used center Tiago Splitter (12.0 minutes per game) is solid but not superb. The Spurs are only slightly above average at clearing the defensive boards and they ask their wings and guards to rebound more than they would probably like. It's worth noting that Duncan will almost certainly see his minutes ramp up significantly in the post-season, which could change things a bit.
Regardless, the surest way for a team to send San Antonio home is to pound the paint, crash the boards and limit turnovers, extracting the maximum efficiency from each offensive possession by forcing San Antonio's starting bigs to play with fouls and work tirelessly on the defensive glass. Surveying San Antonio's most likely first round opponents – the New Orleans Hornets, Houston Rockets and Memphis Grizzlies – none figures to have the ability to do that, at least on paper.
The Hornets lost their star forward and leading scorer David West to a season-ending ACL injury this week, leaving recently backup forward Carl Landry and Emeka Okafor, never a true go-to scoring option, to pick up the interior slack. Given San Antonio's ability to throw multiple defensive looks at Chris Paul and New Orleans' lack of a bench, a series between the two teams very well could end in a sweep.
The hard-charging Houston Rockets, winners of five straight, are looking to salvage their season by making a nice post-deadline run. Guard Kyle Lowry is leading the way with his strong recent play, but the Rockets would almost certainly be exposed as fool's gold if they do manage to sneak into the Western Conference's No. 8 seed. Houston is really an off-brand version of the Spurs, a cut below San Antonio in every way, even their strengths. They have very efficient guard play, but not as good as San Antonio's. They can put up points, but not with the same efficiency as San Antonio. They are hurting on the inside even more than the Spurs and their overall team defense suffers for it. This would likely be another cakewalk for the favorite.
San Antonio's least favorable first round matchup on paper is the team that they are most likely to face: their Sunday night opponent, the Memphis Grizzlies. Memphis sports an excellent scoring, offensive rebounding and foul-drawing duo of Zach Randolph and Marc Gasol, and the pair will do damage against the Spurs, the only question is how much. But Popovich has made a career out of chewing up and spitting out teams that aren't ready for the big stage. I already feel sorry for Mike Conley, a talented point guard but one with no playoff experience. He has no idea – he simply can't know – what's about to hit him when the post-season begins. The Grizzlies, a slightly below average offense thsi season, are also entering the playoffs without star wing Rudy Gay, a versatile scorer who would be critical to freeing up Randolph and Gasol inside. Without Gay, it's very difficult, if not impossible, to envision the Grizzlies keeping up.
As Parked noted, though, clocking one of the West's weaker sisters is not going to be enough for the Spurs. Their road to the Finals will go through whichever team emerges from a first round series between the Oklahoma City Thunder and Denver Nuggets. Those are two talented, motivated, athletic, balanced teams, and the winner of that series will be riding a wave of confidence into Texas. San Antonio is 33-3 at home on the season, another league-best figure, a fact that will weigh heavily in the second round, as both the Thunder and Nuggets are solid at home in front of their excited crowds. Oklahoma City, newly balanced with the addition of Kendrick Perkins, figures to be the tougher match-up because their elite skill level and athleticism will stress and stretch San Antonio's older players. Denver, though, possesses the one offense in the league that is more efficient than San Antonio's and George Karl is as good a match for Popovich as there is in the NBA. Neither will be an easy draw and both series have a solid chance of going six, if not seven games.
Should the Spurs weather that tough second round they will almost certainly have to go through the team that presents the greatest set of challenges: the Los Angeles Lakers. With an interior trio of Andrew Bynum, Pau Gasol and Lamar Odom, the Lakers are versatile, long, athletic and immensely talented, a nightmare group that will require San Antonio to regularly provide interior help, scrambling their defense. Both Parker and George Hill are tough match-ups for the Lakers, and would likely have a field day, but L.A.'s wing defenders are experienced and physical enough to make life significantly more difficult for San Antonio's tertiary perimeter players. Stripping away the hype, not much separates Kobe Bryant and Manu Ginobili these days, and both have the ability to take and make game-winners in front of a hostile crowd on the road, a rare commodity in the NBA.
If the Lakers played with San Antonio's discipline and consistency, a series between the two teams would be no contest. As it stands, though, the West's top two teams are on a crash course for an entertaining, drag-out Western Conference Finals. Assuming San Antonio gets Duncan back healthy -- and they do expect him back in time for the start of the playoffs -- they've got a legit shot at dethroning the reigning champs.