Miami Heat center Zydrunas Ilgauskas suffered an infection that reportedly caused his foot to double in size. Posted by Ben Golliver.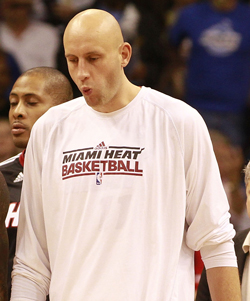 Warning: this post is almost as disgusting as a
Chris Bosh
photo shoot.
Miami Heat center Zydrunas Ilgauskas
told the Heat Index
that his recent foot injury, which has sidelined him since March 10, was caused by a strange infection made his foot swell up like a balloon.
Zydrunas Ilgauskas thought he had a blister on his foot and didn't pay close attention to it. But when he showed up for a game and the foot was twice its normal size and redness was moving up his leg, Miami Heat team doctors sent him to the emergency room.
What followed were a scary couple of days when Ilgauskas learned he had a type of strep infection and perhaps even the dangerous and antibiotic-resistant strain known as MRSA. He said he and the team have not been able to determine the source of the infection.

"I can deal with broken bones but when something from inside attacks you, I've never had that before," Ilgauskas said after taking part in shootaround with the Heat on Friday morning.
Keep in mind: Ilgauskas wears size 17 shoes when his feet are in normal condition. The thought of size 17 feet doubled is almost unthinkable -- he would need to tape a grocery bag to his ankle or something. How else would you possibly keep that thing covered?
The good news is that Ilgauskas sounds like he's now on the road to recovery. The Heat, who are currently the Eastern Conference's No. 3 seed, can certainly use him.
Ilgauskas is averaging 5.1 points and 4.3 rebounds in 16.7 minutes per game this season.