Miami Heat forward LeBron James comes to the defense of UConn guard Kemba Walker on Twitter. Posted by Ben Golliver.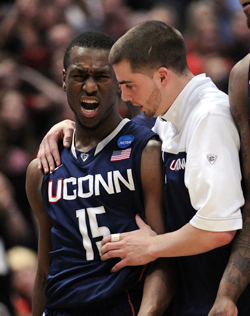 Here we have it: LeBron James' karma tweet part two. No one could forget when the Miami Heat forward
went in on his former team
, the Cleveland
Cavaliers
, as they were getting destroyed by the Los Angeles
Lakers
. On Thursday night, James turned to the social network site to dispense some cosmic justice again.
During the second half of UConn's win over San Diego State in the NCAA tournament, Huskies star guard Kemba Walker was bumped by Jamaal Franklin during a dead ball situation, sending him to the floor in pain. Here's how the
Washington Post described
the exchange.
With just more than nine minutes remaining, San Diego State held a four-point lead. But as both teams were headed toward their benches for a timeout, Walker collided with the right shoulder of San Diego State guard Jamaal Franklin and immediately fell to the floor.
A technical foul was called on Franklin, resulting in a chorus of boos from the crowd. According to Aztecs Coach Steve Fisher, official Tom O'Neill said Franklin bumped Walker. It was unclear from replays whether the contact was intentional or strong enough to cause Walker to fall to the court.
"The contact was definitely enough to go down," Walker said. "That's why I was able to get the free throws. I was on my way to the huddle, and he ran into me."
Walker made sure he got his revenge, as he finished with a game-high 36 points, including 22 in the second half.
With UConn's 74-67 win secure, James chimed in to
tweet
: "Never take a cheap shot at a great player or say something out of character! You'll pay every time, ask San Diego St. #kembawalker."
James has spoken about keeping a list of the Heat's doubters and critics and he didn't hesitate to make his feelings known about the Cleveland situation at what he felt was the most opportune moment. He clearly takes this code of honor thing pretty seriously. Now, I guess we're left to wonder when we'll see James make his critics pay like Walker did.