Tom Thibodeau is arguably the hardest working coach in the league. It's what makes him great, but we also turn an eye to the razor's edge he has to walk.
Posted by Matt Moore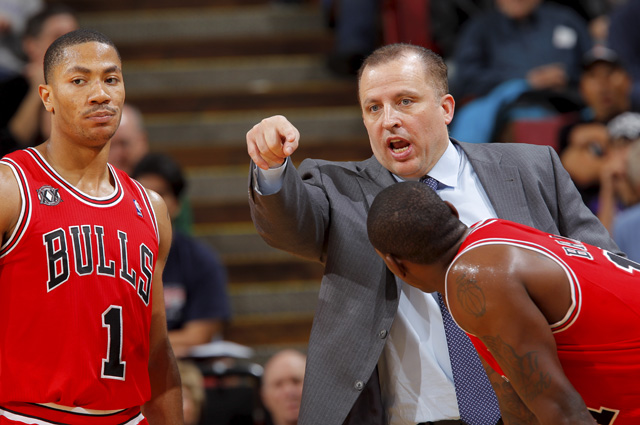 Tom Thibodeau is the front-runner for Coach of the Year honors, despite having an MVP candidate, a major veteran free agent addition power forward,
Joakim Noah
,
Luol Deng
, and an improved bench. That's how good he's been. He's quickly becoming a huge name in this league, as his hoarse shout and grizzled demeanor become staples of NBA imagery.
The
Chicago Tribune
spoke with
Derrick Rose
about Thibodeau and found that Thibs' work ethic borders that fine line between absolute dedication and obsession. From the
Tribune
:
"I've never played for a coach who was that focused," Rose said of Tom Thibodeau, admiringly. "There's nothing else — no kids, no wife, no leisure time to watch TV. I'm dead serious. There's nothing else going on.

"I've never heard about Thibs being out eating. I never ran into him eating anywhere. No matter what city we're in, I won't see him until the next day. I never been around a coach like him."
via
Tom Thibodeau: Chicago
Bulls
coach Tom Thibodeau is serious about fun - chicagotribune.com.
It's the kind of things you want to read about a coach. Devoted to the point of obsession, driven beyond all reason, the total and complete focus on winning and achieving improvement as close to perfection as possible. But, just for a point of discussion, there's also this quote from Rose:
"If we're messing around in practice, he always reminds us that if we want to be that team, we can't be taking steps back," Rose said. "We have to play with an edge every game."
That's something great to hear from the coach of the best team in his conference, leading a young point guard to heights not seen since the days of You-Know-Who. Right now, it seems like a sign of the total and complete drive that makes Thibodeau that Coach of the Year candidate. But what if it wasn't?
The problem is that kind of devotion and drive only works for so long. Pushing your team in practice ("We're talking about practice. Not a game. Not a game, practice.") to that degree will eventually burn them out on you. You can push a team to greatness but you also have to know when to throttle down. Maybe Thibs knows that, learned it from Doc in Boston. But as good as the Bulls have been over the past month, and they have been incredible, you have to think about the long-term, and worry about how far the push goes.
From there, you have to worry about Thibs himself. Dude needs a vacation like "woah." Drinks with umbrellas in them. Sandy beaches. Fresh shrimp.
Until then, you'll find Thibodeau burning the midnight oil, trying to find the algorithm that will bring the Bulls a championship, in this, the most unlikely of arrivals on the main stage.
(HT:
TBJ
)