Los Angeles Lakers forward Ron Artest has his sights set on a Grammy. Posted by Ben Golliver.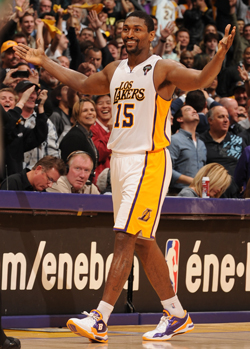 Fresh off his starring role in an instant classic triple overtime victory over the Phoenix
Suns
, Los Angele Lakers forward Ron Artest has set his sights on a bigger dream: a rap Grammy. Say Queensbridge.
In
a lengthy interview with Bossip.com
, Artest describes the difficulties of his fledgling rap career and expresses great joy at finally getting a song --
Go Loco
-- played on the radio. "First off, this is people's livelihood, so if you're not coming correct it's not going to be on the radio. From the business to the creative part, I think this is the first time I came correct, from the beat to the musicians on the record. And then I got a dope artist on the record."
Artest notes that his industry learning curve has been somewhat slower than average. "I've been doing this 12 years and I'm probably at where these guys were at their first two or three years. I learned by myself, nobody taught me. Nobody was giving me any handouts, you know?"
Despite the slow progress, Artest explains that he was born to ball and rhyme. "Vern Fleming was on the Olympic team in 1988 with [Michael] Jordan, Chris Mullin all these guys. I grew up with a basketball pro and a top three rapper of all time, in Nas ... I was involved in basketball and music from day one."
With a song on the airwaves, Artest is ready to crown himself. "[It's] a new breed, a new movement that's happening and I'm kind of a leader right now of the Queensbridge movement." Artest admits shortly thereafter that perhaps he hasn't yet supplanted the living legends. "Of course Nas is still in the game and Prodigy is home from jail, so obviously they're going to make their run."
Like any ambitious rapper, Artest's eyes are on the prize. "I want to develop my artists and have them put the best music out, and then continue to put the best music out. I don't want to slack off. Give 100%. I don't want to half-ass it. If a Grammy comes with that, that would be amazing.
"The artists that I have, they want the Grammies, they really do," Artest continued. "I want a Grammy. Realistically, myself, I don't know if I can get one with playing basketball. I don't know if I have the time to create the records that I really need to create and spend the time I know I need to be in the studio to make sure that everything is right for my records. But for my artists, I can see one or two of them getting a Grammy."
You can watch the
full video interview at Bossip.com
.