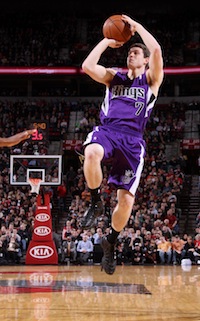 Jimmer Fredette has lit up the college basketball world all the way to the Sweet 16. But what do his pro prospects look like?
Posted by Matt Moore
Jimmer Fredette was easily the most recognizable player coming into the NCAA Tournament this year, and remains the most prolific player in the Sweet 16. He's the type of player who brings people's imaginations out to play. They're captivated by what he does. And what he does is score. As long as you have an incredible scoring ability at the college level, people will proclaim your greatness and defend you from the scrutiny of draft evaluations. Take for example, some of the
comments from Ken Berger's latest discussion with NBA personnel
on the BYU senior:
"The old saying is that hopefully you can teach people to defend at least to a certain point," one Eastern Conference GM said. "But you can't teach the offensive skill set that he has."
Or, as another GM put it:
"You start talking about elite shooters, which he's proven himself to be, how many of those guys have come into this league as elite shooters and failed? Not many."
It's really great to see NBA executives willing to take a chance on a player based on the results he's shown in college, not based on upside or potential or athleticism or defense or explosiveness or ability to guard any competent NBA player for a single possession.
You see where I'm going with this, right?
Have the GM's learned nothing from Adam Morrison? Has the long and prolific history of draft busts who were awesome at shooting in college but had questionable athleticism, size, and defensive prowess completely whipped past their heads on the way to Jersey Sale Island? Fredette, as Berger repeatedly mentions, is terrific at creating off-balance shots from either foot. Which will be really helpful when he's getting swallowed alive by guards with more wingspan than three Jimmers put together with an Ammo. He really is a brilliant college scorer. But that's just it. The NBA isn't college. The game's rules and objectives may be the same, but how they operate is completely different.
For starters, offensively, Jimmer's basically looking at a
Kyle Korver
type role. A spot-up shooter only, since his speed, leaping ability, and size will ensure that any mid-range floaters, leaners, or runners will wind up getting eclipsed by the long arms he'll find at the pro-level. Korver can't defend either, after all, and he really just needs to stick to the perimeter. But Korver's 6-7. He's got five inches and a bulkier frame on Fredette, which limits teams' ability to drive him into the post and abuse him. Fredette would have to play point guard due to his height, and from there, he's looking at guarding either the fastest players in the league at a time when the ability at that position is at an all-time high, or getting put into the post against players like
Deron Williams
who will bruise him into a pulp.
The other obvious comparison for Fredette is
J.J. Redick
,
as we mentioned
. Redick was a pure shooter coming out of Duke and many questioned his ability to play in the NBA. But Redick spent two years bulking up on muscle and focusing on defense. Now he's one of the better defenders on the perimeter Orlando has and arguably the best defender of
Ray Allen
in the league, thanks to a near-pathological drive to bust through repeated screens by the
Celtics
. Can Fredette copy that model?
Tom Ziller of SBNation.com pointed out in January
that Redick is stronger and bigger than Jimmer. In short: whatever limitations can be mitigated in regards to Jimmer's size are emboldened by his physical abilities and whatever shortfalls can be mitigated in regards to his abilities eventually overwhelm his stock due to his lack of size.
But hey, lots of players can't play defense in this league. Many of them will be teammates for Fredette when he lands on a lottery squad. So what's the big deal on that front? The issue is that you have to find an offensive repertoire you can rely on to create open looks. Fredette's best option when faced with a capable defense at BYU is to simply step back and shoot from longer range. The first time Fredette launches a 40-foot J in the NBA will be the last time a teammate passes to him. Maybe he can adopt the leaning shots that
Manu Ginobili
routinely drains over more athletic opponents. Except Ginobili is four inches taller than Fredette and his speed is good enough to create havoc against a defense, even if he's not explosive like C-4.
In reality, there's no real comparison to Fredette in the NBA, and that's a bad thing. It's one thing to have no comparable set of athletic talent because you're so superior in that regard. After all, there was no one to compare
LeBron James
to when he entered the league at 18, either. But with Fredette, it's difficult to find a comparison because most players of that mold have not lasted long enough to succeed.
This isn't to say Fredette has no shot. There are always exceptions, and those are often times some of the greatest players. (One colleague suggested Larry Bird to me this week. After I was through cackling my way into choking on a sandwich, I pointed out that Bird was about as brutally big and tough as a forward comes and that Bird was 6-9, for crying out loud.) And as Berger notes, he could be a fine bench option. But who uses their first-round draft pick north of the 20th overall to draft a 15-minutes-per-game pure shooter who you can't leave in if you need stops? No one drafts for reasonable value in the NBA, everyone tries to get that special player that's fallen to your spot. Ironically, it's that same idea that will draw GMs to draft Fredette, thinking he has something special to offer, based off how special he's been in college (and he is a wonder at that level).
But before they do, they should check and see the measurements Fredette provides in his pre-draft workouts. Check his vertical leap, his shuttle time, his 40-time, his standing reach. See how they measure up not only against the more athletic members of his class, but against the players who have tried, and failed, before him to bring the pure skill game of college to the sharp and brutal athletic gauntlet of the NBA. Someone will be brave enough to take Jimmer high in the first round. In this instance however, fortune may not favor the bold