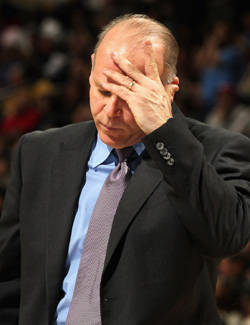 Pistons veterans have mocking nickname for head coach John Kuester.
Posted by Matt Moore
The Detroit Pistons' reaction to John Kuester has been baffling at points. Their confusion and frustration at lineups and practice habits is understandable, but the abject void of respect they seem to nearly instantaneously developed for Kuester goes into territory rarely seen in a league of professionals. Take the most recent example from ESPN:
Despite the justified Heat Detroit's vets got for their unpardonable mutiny, that apparently hasn't stopped some of them from privately referring to their coach as Sean Penn ... as in "Dead Man Walking."
via
Weekend Dime: NBA coaching carousel - ESPN
via Pistons blog
Pistons Powered
.
How is anyone supposed to work in that kind of environment. Coaches in the NBA are about ten times more expendable than players, but there's little question that Kuester has been cut off at the knees with this kind of behavior from the veterans on the Pistons.
Kuester likely is on his way out, after so many gaffes, be they his creation or not. But Pistons ownership, whenever it's resolved, and management, particularly Joe Dumars, should be aware that the veterans on this team have to be removed. It's fine for these players to oust someone who hasn't been able to make any headway in two seasons. But the signal has to be sent that players cannot act as snakes in the grass, no matter how weeded the coaching situation may be.