Posted by Royce Young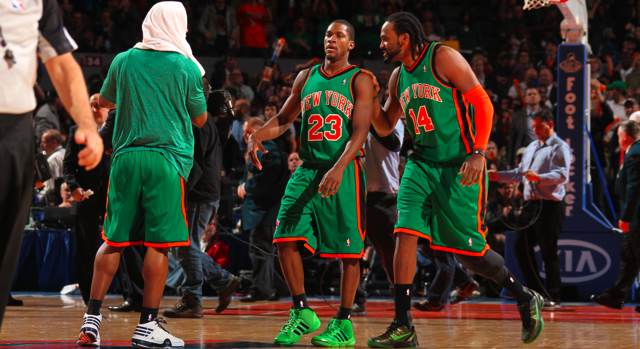 THE BIG ONE: TEACH ME HOW TO DOUGLAS
If the focus is on your defense and the issues with it here's a way to fix it: play awesome offense. That's what the
Knicks
did Thursday against the
Grizzlies
, bombing a franchise record 20 3-pointer en route to a big 120-99 win.
Leading the charge was backup point guard
Toney Douglas
who contributed nine (nine!) of the Knicks 20 3s. The best part? Douglas only needed 12 attempts to do it. He went 10-14 for the game for 29 points and really was about as hot from outside as you'll see a player. The nine 3s tie the Knicks franchise record, also held by Latrell Sprewell and John Starks. Not necessarily elite company to be with, but with a franchise like the Knicks, having your name at the top of any record is special.
The win though was much needed for the Knicks who had dropped three straight and are now in surprising fight for the six-seed with the
76ers
. What once appeared to be a foregone conclusion will be a pretty good race to the end it looks like. And beating a good team like the Grizzlies is something to build on. People seem to keep forgetting that this Memphis team is actually pretty darn good.
And it's not like the Knicks played a great game, outside of shooting incredibly well. The defense was better, but it's not like it was leaps and bounds improved. New York still allowed Memphis to shoot 46 percent and the Grizzlies took 30 free throws. That's become a problem with the Knicks too -- they don't defend well without fouling.
But like I said, when you play awesome offense, it excuses mediocre defense. I think that's like one of the five founding principles of basketball or something. There's no defense for great jumpshooting. And that's what the Knicks had. Ironically, the previous franchise record was 19 and it came against the Grizzlies in 2008. So the Knicks just save this stuff for Memphis I guess.
Wins are at a premium for the Knicks any way they can get them, but maybe this is one to build on.
Carmelo Anthony
played well scoring 28 on 19 shots.
Amar'e Stoudemire
just played a role scoring 16 on 6-12 shooting while grabbing nine rebounds. This game was about Douglas and the Knicks did a good job of just getting out of the way. Hot shooting isn't something to live by, but momentum is important as the regular season winds down and maybe the Knicks built a little Thursday.
CHICAGO STILL BULLING WAY TO THE TOP
Hold most teams to 84 points and you're winning. Or at least you're close. Unless the team you're playing is the
Bulls
. Then you're almost definitely losing.
Chicago won its eighth straight, beating the
Nets
84-73, while holding New Jersey to just 35 percent shooting.
Deron Williams
went just 1-12 from the floor for only five points. No way the Nets are beating anyone when that happens.
Derrick Rose
wasn't great going 8-23 from the floor for 21 points, but this is the reality with the Bulls -- he doesn't have to be. Rose is going to walk his way to an MVP mainly because he just has to play relatively well for the Bulls to win. They can beat teams like the Nets in their sleep as long as the offense does just enough. Not taking anything away from Rose because he's the offensive focus and without his 21, Chicago's not winning. But he can lean on that defense at all times because Chicago plays it nightly.
EVERY DUNK HAS ITS ROSE
Man, I really hate Chicago's green uniforms. But not even those gross unis can ruin this pretty dunk from Derrick Rose.
GO-GO-GADGET LINES
Toney Douglas: Again, 29 points on 10-14 shooting including 9-12 from 3.
Carmelo Anthony: 28 on 10-19 shooting
Brook Lopez
: 22 points and eight rebounds in a loss to the Bulls.