Miami Heat forward Chris Bosh says everyone in the NBA cries. Posted by Ben Golliver.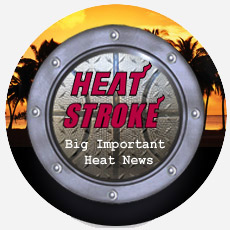 About two weeks ago
, Miami Heat coach Erik Spoelstra revealed that his team had a sensitive side, admitting to reporters that members of the Heat cried after their loss to the Chicago
Bulls
. At the time, everyone suspected that the crying culprit was forward Chris Bosh, but he denied it, and then everyone realized that it was a little awkward conducting a witch hunt over something so petty.
This week,
SportsRadioInterviews.com noted
that Bosh joined 790 AM in Miami and said the entire NBA is just a bunch of criers.
"Any player who says they haven't cried over basketball, they're lying. … It's emotions. That don't make you weak. It doesn't make you weak as a man or as a player. That just shows how bad you want to win. It really doesn't matter at the end of the day."
If we're getting technical, I would bet at least one player in the NBA has never cried over an NBA game. Some players just don't care as much as the rest and some people just don't channel their emotion that way.
But if we're talking basketball over a lifetime Bosh is probably right. Given all of the hoops NBA players have to jump through to wind up in the league, all of the big games, knockout games, win-or-go-home games, that players face, coupled with the amount of travel and time away from family and friends at a young age, I wouldn't be surprised at all if Bosh's statement is accurate.
Now that Bosh has acknowledged that players lie about crying over basketball, though, I can't help but wonder, again, whether Bosh himself just recently lied about crying after the Chicago game. He had nothing to gain and a lot of face to lose if he had cried and had been honest about it at the time. I certainly wouldn't blame him for crying in that situation but it surely would have provoked another distracting firestorm needlessly.
Bosh's cogent analysis of the league-wide hidden river of tears just makes you wonder what really happened, doesn't it? He sounds like a guy defending his right to cry, which makes a lot more sense if he had cried than if he hadn't.
For some reason I feel a tell-all autobiography is in Bosh's future. Maybe then he will clear up these critical issues.