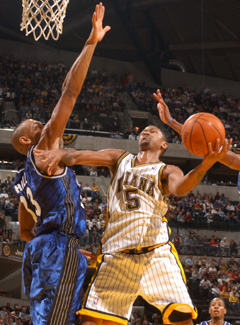 Posted by Matt Moore
ESPN's 30 for 30 documentary series premiered their episode on the Michigan "Fab 5" last weekend to critical acclaim. In it, producer and Fab Five member Jalen Rose spoke about
Grant Hill
and in doing so said that when he was in college he felt that black players who played for Duke were "Uncle Toms."
OK.
That was supplemented by former Wolverine Jimmy King saying "
I thought Grant Hill was a bitch
."
Well, then...
So today Grant Hill responded with an editorial in the
New York Times
:
My mother always says, "You can live without Chaucer and you can live without calculus, but you cannot make it in the wide, wide world without common sense." As we get older, we understand the importance of these words. Adulthood is nothing but a series of choices: you can say yes or no, but you cannot avoid saying one or the other. In the end, those who are successful are those who adjust and adapt to the decisions they have made and make the best of them.

I caution my fabulous five friends to avoid stereotyping me and others they do not know in much the same way so many people stereotyped them back then for their appearance and swagger. I wish for you the restoration of the bond that made you friends, brothers and icons.

I am proud of my family. I am proud of my Duke championships and all my Duke teammates. And, I am proud I never lost a game against the Fab Five.
via
Grant Hill's Response to Jalen Rose - NYTimes.com
.
This issue has sparked conversations about race, the perceptions of collegiate programs at both Duke and Michigan, the imtemperance of youth, and some
bad Jay-Z jokes
. This blog is not the place for it, nor is the author qualified to speak on the matter. But at least the discussion is being held. Some interesting notes:
Hill notes that Jalen Rose contacted him via Twitter before the airing of the documentary to apologize.
Rose's comments were in relation to how he felt in college, and he has clarified since that he does not feel that way now, but Hill's commentary is held as if the perceptions are long-standing.