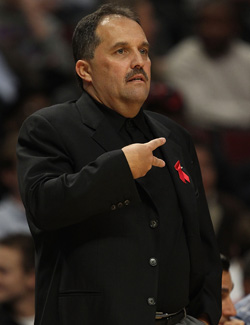 Stan Van Gundy voted "Most Annoying Coach" by NBA players in regards to sideline behavior.
Posted by Matt Moore
The
Sports Illustrated
annual players' poll is released on newsstands Wednesday, but they elected to leak one notable, and slightly hilarious result. Stan Van Gundy trounced all comers in being voted the most annoying coach in the NBA, according to the players. From
Magic
blog Orlando Pinstriped Post:
Sports Illustrated polled 138 NBA players for its latest issue, on newsstands tomorrow, and asked which head coach is the most annoying during games. The Orlando Magic's Stan Van Gundy, with 65 percent of the vote, "won" in a landslide; Phil Jackson of the L.A. Lakers and Scott Skiles of the Milwaukee Bucks tied for second place, receiving seven percent of the votes apiece.

Van Gundy, in his fourth season leading the Magic, is among the most outspoken coaches in all of sports, as his recent feud with NBA Commissioner David Stern demonstrates. He's also taken on targets as big as the Miami Heat and Shaquille O'Neal during his Magic tenure. But this poll asked players to only consider the coaches' attitude during games. It's easy to understand why they may not take kindly to Van Gundy, with his high-pitched shouting and histrionics.
via SI Player Poll: Stan Van Gundy the NBA's "Most Annoying" Head Coach - Orlando Pinstriped Post.
The perception is that essentially, Van Gundy is on a fuse, and when the fuse runs out, he'll be jettisoned for a "player's coach," someone who won't scream, won't yell, and looks more the part of an NBA coach. He's been called a "master of panic" by Shaquille O'Neal, despite having one of the better track records for drawing up intelligent playcalls in key situations as opposed to the oh so popular "give to the best perimeter player in ISO and help no one doubles" tactic that so many coaches opt for (and Scott Brooks has tattoed backwards on his forehead for easy reading in a mirror).
This vote just reinforces the belief that Van Gundy is not a guy players want to play for. Yet there he is, winning games and contending for a title on a team that just three years ago was considered an afterthought in the playoffs. Van Gundy's performance record places him the past two seasons behind only Phil Jackson and Doc Rivers in terms of team sucess. That's not bad for a guy who apparently most of the league finds annoying. Van Gundy likely doesn't mind the characterization as long as his teams keep getting the message and playing to his demands.
It's also interesting that all three coaches on this list have career records greater than .500.