BYU guard Jimmer Fredette's family wants him to join the New York Knicks. Posted by Ben Golliver.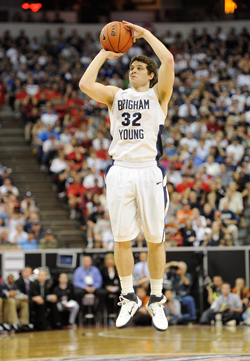 Newsflash: The NCAA tournament is about to kick off later this week, which means BYU senior guard Jimmer Fredette, who is currently averaging a ridiculous 28.5 points per game while shooting 45.6% from the field and 40.4% from deep, is about to make the leap from household name to national sensation.
Fredette, a squeaky-clean sniper, is originally from upstate New York and this
excellent Philly.com profile
notes that his family is hoping the local team will take him in the 2011 NBA Draft.
DraftExpress currently predicts Jimmer will go 13th (to the Phoenix Suns) in the 2011 NBA draft, although his stock fluctuates with questions about his size, speed, and defense. What isn't a concern is his endorsement potential: One agent said companies are lining up to use his squeaky-clean image and market his electrifying game and trouble-free persona.
The ideal NBA landing pad for both brothers - basketball for Jimmer, music for T.J. - would be New York.

"We want him to go to the Knicks," T.J. said without hesitation. "That's our team."
Stop me if you've heard this before: A New York native with the ability to fill it up takes a multi-year trip to the shadows of the Rocky Mountains and now wants to make a triumphant return to the Big Apple. It's just like the
Carmelo Anthony
situation, except without all the bitterness and the need to unload Eddy Curry's contract.
So what of the fit? Certainly, Fredette's quick trigger and lack of defensive aptitude would be right at home under coach Mike D'Antoni. However, both Anthony and forward
Amar'e Stoudemire
are set to be taking most of the shots for years to come and
Chauncey Billups
will be spending next season gunning for one final pay day. Put it together, and Fredette would be better off landing with a team that needs to fill a scoring hole more immediately.
But the biggest problem here is that Fredette won't last until the Knicks get around to picking. Someone in the lottery will take a chance on him given that he's demonsrated the ability to score in volume, especially after his hype train goes crazy once he's the toast of the nation in about a week and a half.