Posted by Royce Young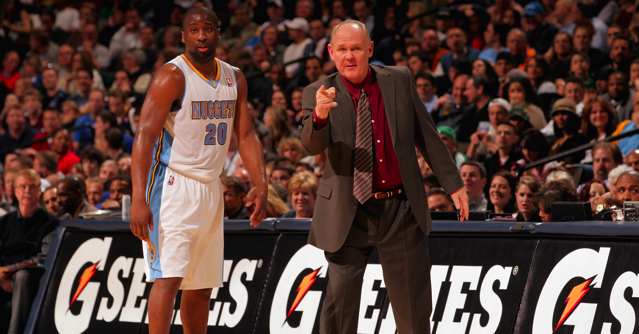 It's too early to say that the
Nuggets
won the
Carmelo Anthony
trade, right? No way that the team that
gave up
Melo actually ended up with the better squad, right? It's not possible that the Nuggets are actually better than the
Knicks
, right?
Right?
Raymond Felton
, who was part of gaggle of players sent to Denver for Melo and
Chauncey Billups
, says exactly that.
"We're a better team (than New York), I feel like. That's it,"
Felton told HoopsHype.
Marinate on that comment for minute because I know your initial reaction is to say no way. No way the Knicks, with Melo,
Amar'e Stoudemire
and Billups, are worse than the Nuggets who are built around
Danilo Gallinari
, Felton,
Ty Lawson
and Nene.
But so far, it's tough to argue with. The Nuggets are 7-2 post-trade and have gone from a prime candidate to slip out of the West to actually
climbing
to the No. 5 seed which they appear to have a strong hold of. Denver has had the good fortune of an easier schedule than the Knicks and with games against the
Hornets
,
Hawks
,
Magic
and
Heat
, the Nuggets might come back to earth a bit.
The Knicks have looked terrific at times but also have sputtered in trying to work in their new superstar. Since acquiring Melo and Billups, New York has gone 6-5, but that was against decent competition with some wins against good teams (Miami, New Orleans, Utah, Atlanta and Memphis). If the Knicks just hadn't dropped the ball twice against the Cavs, things wouldn't look near as rough. Plus, Billups has missed a few of the last games.
It's obviously premature to make a call on this because in the long run, the Knicks probably will come out better. But with the way things have panned out, it makes Masai Ujiri look that much better for the way he strung out this thing to get the best possible deal for Denver.
I do wonder what would happen between the Knicks and Nuggets in a seven-game series. Right now, I think Denver would have the edge because it seems like they've bought in more to the new system. The Nuggets are playing much better defense now than they were earlier in the year and have a unit that seems very cohesive and together.
Melo is now New York's defensive problem.
George Karl said in a radio interview with 104.3 The Fan in Denver recently
that the team made big strides defensively since the trade, even saying the Nuggets were "cheating the game" on the defensive end with Melo.
"I don't think there's any question that our personality of trying to get 'Melo to be a little bit more involved with how we wanted to play versus his talent, which is scoring points," Karl said. "There's a value to that and I have a lot of respect for what 'Melo can do for a team. I don't think you're ever going to be a bad team with 'Melo's personality, but you've gotta work around his personality a little bit. I think sometimes the team is more important than the individual. You need individual talents, you need individual skills, you need the ability to score, but we were just cheating the game so much on the defensive end of the court, cheating the game in some offensive situations that I didn't think we were getting enough team into the game as much as we were just getting scoring into the game."
Are the Nuggets better than the Knicks? Right now, I think so. They've figured out each other while the top-heavy stockpiled talent in New York hasn't quite yet. But it's definitely premature to declare a winner here. I do think we can definitively say though that Denver came out a little better than everyone originally thought though.

Via Sports Radio Interviews