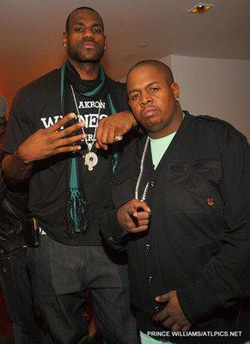 LeBron James sued over reneging on club appearance in Atlanta, then scheduling appearance at competitor's establishment.
Posted by Matt Moore
Someone's suing LeBron James for betrayal, and in a surprising development, it's no one from the city of Cleveland. The
Atlanta Journal-Constitution
reports that James is being sued for committing to a club appearance, then backing out and appearing at another in the same city.
Atlanta's Opera nightclub is suing the Miami Heat player and the Gold Room over an appearance James is scheduled to make later this month. A hearing on the request for a temporary restraining order and a preliminary injunction is set for Thursday in Fulton Superior Court.

In a complaint filed Monday, Opera accuses James of reneging on a promise to appear for one hour on March 17, for which he was to be paid $25,000, or $417 a minute.

James, who last summer infamously jilted his longtime team the Cleveland Cavaliers to join the Heat, will be in town the night before Miami is scheduled to play the Atlanta Hawks at Philips Arena.

The Opera Nightclub said in its suit if the Midtown Atlanta bar can't have him -- at least on that night -- no one should, especially the Gold Room on Piedmont Avenue.

"We want to make sure LeBron doesn't show up any place else," Yasha Heidari, the attorney for the Opera, told The Atlanta Journal-Constitution Tuesday.
via
Atlanta club sues LeBron James | ajc.com
.
So the
AJC
goes on to report that James basically told the club he'd committed to he simply didn't want to make the appearance. The competing club is denying that James is scheduled to appear there. The plaintiff club states that their problem isn't with James, but with his "agent" for party promotions, Chubbie Baby. Yes, that's his name. He's apparently an
Ohio rapper
with
his own blog
who is
a big fan of guns
, or at least was in 2008 at the time of his arrest on a concealed weapons charge.
So in the middle of trying to find his team's identity, stop losing games that result in his coach outing his teammates crying and recover some sense of the momentum felt when he joined the Heat last year, James is now dealing with a lawsuit over failing to follow through with one club after asking for continual increases in his fee, only to be scheduled to appear at another. There's some sort of allegory in here, I just can't find it.
(Photo via
Chubbie Baby's blog
,
ATLpics.net
)
(HT:
PBT
)