Posted by Royce Young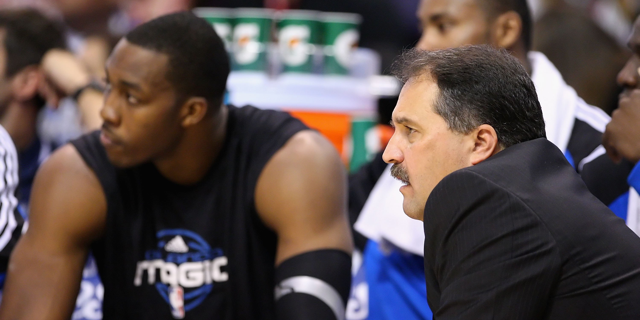 Dwight Howard
will serve a one-game suspension for picking up his 16th technical foul of the season over the weekend against the
Bulls
.
Via the Orlando Sentinel,
the never bashful Stan Van Gundy came to Howard's defense Monday, citing that Howard had actually shown "great restraint" in terms of lashing out after the punishment he had received.
Van Gundy cited a stat he credited to the Elias Sports Bureau that Howard had been hit above the shoulder 593 times this season without one being called a flagrant.
"You could say 'he's losing control.' I would say just to the opposite," Van Gundy said. "I would say his control is amazing. Basically, what we're saying [is] for those of us that work out, go run on the treadmill for 43 or 44 minutes that he plays, and I get to come by three times in that 43 minutes and smack you as hard as I want upside the head and I want you to retaliate less than once out of every 15 days that I do that three times."
But what was most interesting was an exchange Van Gundy had later on where he didn't mince words about commissioner David Stern.
When a reporter asked Van Gundy if he expects anything to change in the way referees officiate Howard's games, Van Gundy responded that he expects no change from the NBA.

"They like the way the game is being called," Van Gundy said.

When another reporter asked if it's fair to fans who paid money to watch Howard play tonight but now won't be able to watch Howard, Van Gundy responded, "You'll have to ask [NBA Commissioner] David Stern about that. He obviously thinks it's better that he sits out."

A reporter later asked whether the technical-foul system is fair, but Van Gundy expressed concern that any statement of opinion could net him a fine from league officials.

"I can't answer that," Van Gundy responded. "And I certainly can't have an opinion because David Stern, like a lot of leaders we've seen in this world lately, don't really tolerate other people's opinions or free speech or anything. So I'm not really allowed to have an opinion, so it's up to him. He decides. And he likes the system that he has."

I'm sure the commissioner will have some thoughts about Van Gundy's comments. Implying that Stern is running a dictatorship is a pretty strong statement. Probably not an incorrect one entirely, but strong nonetheless. But Van Gundy is defending his player, something he absolutely should do.
Howard has been criticized a bit
for being a hothead and for not being able to control his temper. He disagrees.
"There's nothing I can do about it,"
Howard told the
Orlando Sentinel
Sunday.
"I'll try not to let the officiating affect the way I play. It's very tough, but I've just got to do it. I think it's like they want to make an example out of me, but I'll just stay positive and continue to do all the things that I do to bring fun to the game. That's all I can do. I'm not a bad guy. I'm not a hothead because I get techs, and I think that's the message that people want to put across. I guess last year it was I smile too much. Now I don't smile. And now I'm a hothead."