Are the Los Angeles Lakers and Los Angeles Clippers opposed to the Sacramento Kings relocating to Anaheim? Posted by Ben Golliver.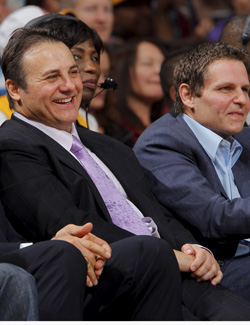 A few weeks back
, we noted that the Sacramento Kings had received an extension that provided them with more time - until April 18 - to consider a possible move to Anaheim. While Anaheim is still the baby stepbrother of Los Angeles, it has proven to be a solid market for professional sports, offers the allure of a large regional television audience and houses the Honda Center, a building that is slightly less old than Sacramento's Arco Arena.
While the move would be heartbreaking and soul-crushing for one of the league's most passionate fanbases, it makes some sense for the team's cash-strapped ownership group. One potential problem with becoming the new kids on the block in Southern California? The current residents may not be welcoming a third NBA team with open arms.
The New York Daily News reports
that both the Los Angeles Lakers and the Los Angeles Clippers - who play their home games in downtown L.A.'s Staples Center - are "opposed" to the Kings' relocation plans.
The move to Anaheim will be opposed by the Lakers and Clippers, who see it as an encroachment on their territory. But sources close to the Maloofs say they're willing to pay the two L.A. teams whatever it takes to relocate. That would be in addition to the league's relocation fee of $30 million.

Anaheim Honda Center and Ducks owner Henry Samueli is prepared to help the Maloofs with the financing, offering a $100 million loan. Samueli tried to buy the team last year.

"The likelihood of them leaving is probably greater than them staying," said Sacramento mayor Kevin Johnson, the former Suns star, this past week. "But it's not a done deal."

Given the introduction of new competition, you can't blame the Lakers and Clippers for seeking compensation. The question for today is whether the Lakers and Clippers can provide enough financial pressure to make the Kings think twice about the timing of their move. It's difficult to speculate how effective any efforts to dissuade the Kings relocation efforts would be, at least without knowing the full details of the Maloof brothers' financial situation, which is said to be in tough shape due to Las Vegas casino losses.
Longer term, though, it's unlikely that the Lakers and Clippers can make a relocation effort prohibitively expensive for the Kings. If it comes down to dollars and cents, the Kings, like other franchises before them, will find their way to a larger market and better building, one way or another.
With that said, the city of Sacramento and Kings fans have responded in the best way possible: appealing to history and loyalty, as the cash is almost certainly greener on the other side. Whether emotional appeals carry any weight in 2011, though, is anybody's guess.