Coach Erik Spoelstra says players were crying following loss to Bulls.
Posted by Matt Moore
There's no really great way to intro this, so I'll just go ahead and put it out there. After the Miami
Heat
blew yet another big first half lead
, melting down in the fourth quarter, and losing to another team above .500, and another game decided by five points or less, Erik Spoelstra made a considerable error in the post-game presser. In the long list of things that you never want to reveal about your team, this is up there. From the
South Florida Sun-Sentinel
: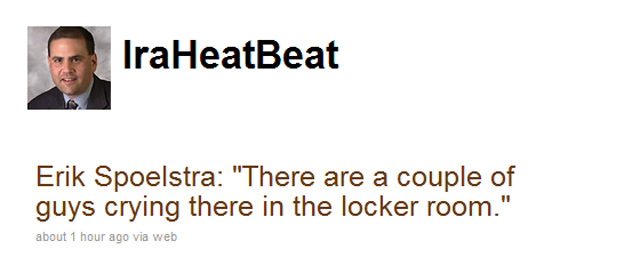 First off, Erik Spoelstra made a huge mistake here. Even if that's the case, you say the Heat players are crying after a devastating playoff loss no one can blame you for. You say that after something emotional has occurred. You don't say that after losing to the third best team in the East in a game in March. Spoelstra's just revealed that the Heat are even softer mentally and emotionally than they're perceived to be. Players have emotions and have to deal with them, the pressure is intense, and as competitors, losses like today's disaster against the Bulls hurt. But you don't give the press this kind of a feeding bite. The fans, the media, sports radio, and every single person in Boston, Los Angeles, Chicago, and Orlando are going to latch on to this and shake it for all it's worth. It doesn't help anything, it only hurts.
Second... really? This isn't a team of rookies. These are guys in their primes, pros and veterans who should be able to keep perspective. Instead, they're crying over this. It's not the stereotypical macho reactions to crying that are the issue, it's the lack of perspective, and an extension of the mental and emotional failure this team has exhibit all season whenever faced with any adversity. If Miami weren't stocked with star players, you'd be left thinking this team is basically the Atlanta
Hawks
, only not as mentally tough. That's quite a ways away from preseason expectations.
For what it's worth,
Chris Bosh
said postgame
he wasn't one of the criers. That he had to be asked that and had to point out it wasn't true says something in and of itself. LeBron James
said that it's on him
, which is the first sign of leadership he may have ever had. It'll be interesting to see if he can back up the talk with, you know, results.