Derrick Rose texted an ambivalent message to LeBron James regarding coming to Chicago this summer. It helps to paint the fascinating contrast between the two MVP candidates.
Posted by Matt Moore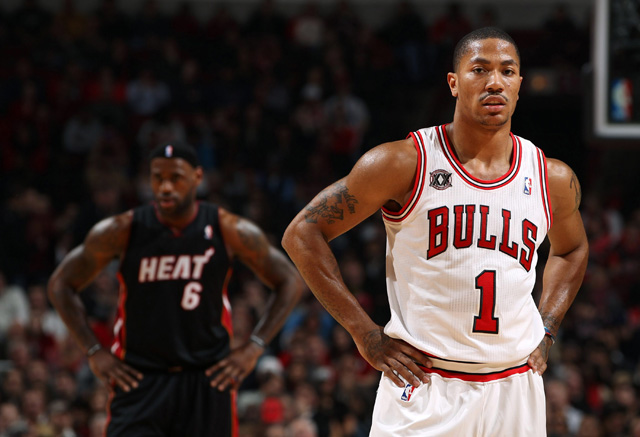 Derrick Rose doesn't care about LeBron James.
The connotation attached to that statement goes much further than what it actually means. As a result of "The Decision," any athlete placed in juxtaposition to James immediately takes on a slew of attributes that we hold dear as a society and as fans. They are humble. They are not egomaniacs. They want to make their own name and not ride the coattails of others. They are loyal. They are willing to take the team on their back, and they will not self-aggrandize on national television just to expand their "global brand." That Rose is quiet, unassuming, and tends to mumble through bland interview opportunities only furthers the adoration now heaped on him as some sort of savior of basketball dignity. He and Kevin Durant share the forefront, but with Durant "quietly" only leading the NBA in scoring on the West's fourth best team in a little town called Oklahoma City, Rose has taken the mantle as the Thursday night TNT loner hero, even as he's flanked by close to $50 million in salary.
In short, we have determined that Rose is everything LeBron James is not, and that's why he doesn't care about LeBron James. But that's genuinely only part of the story.
**********************************
This summer, the Chicago Bulls were as active as Miami with Riley spinning championship yarns, as New York with the billion dollar concept, as the Nets with the Russian-Rap combo, as the Clippers with... whatever Donald Sterling delusion brought the Clippers to the table, in chasing LeBron James and Dwyane Wade. They cleared cap space, they went to the meetings, they had repeat meetings with Dwyane Wade. They were as engaged as any other team in trying to form a superteam. It doesn't take rocket science to figure this out. Bulls ownership for years has been treading a thin line between managing its costs and attempting to collect players that would reap the kinds of profits only stars can. So the opportunity to shell out for Dwyane Wade, LeBron James, Chris Bosh, or some combination thereof presented more than just a chance for a seventh title or more, but a grand chance at a ridiculous quarterly report. Check out the jersey sales for more.
But now, we're being presented an alternate view of history. Instead, now the story reflect that the Bulls were lukewarm on James and all his bluster, and were quite fine to back the young point guard who until this season had failed to truly capture his own destiny in his game. A prominent source of this revisionist history came from Sports Illustrated this week, who in a solid profile of Rose details Rose's reaction to the courtship of James.
Rose assumed a curious role in the proceedings. While other stars acted like college boosters courting the ultimate blue-chipper, Rose's recruiting effort consisted of one text message, sent mainly for damage control. Rose remembers texting James, I'm just hitting you up to kill all the rumors that I don't want to play with you. I'd like to play with you. I just want to win.

The message was vintage Rose, honest and understated, while his peers were over the top. James expressed his appreciation in a text, but on July 8 he joined Dwyane Wade and Bosh in Miami. The Heat's new threesome was portrayed as the product of the AAU culture, with its stacked rosters and superteams, but Rose came from the same system and took a vastly different lesson from the experience. "He always told me he didn't want to be on one of those stacked teams," says Reggie, who coached his younger brother's AAU club, the Mean Streets Express. "He wanted to be with an underdog."

Rose recognized that he would be affected by James's decision, but he was ambivalent about it, according to several associates. He loved the idea of playing alongside James and of the wins that would inevitably follow. But he also loved the team he had, with Deng at small forward, and he was not about to lobby strenuously for an upgrade. "That showed you what kind of guy he is," Noah says. "If you want to come here and be part of this, that's cool. If not, we're going to try to kick your ass."

The Bulls took their cues from Rose, and when he revealed no disappointment, they did the same. Owner Jerry Reinsdorf went so far as to call his team superior to Miami. If anything, Rose seemed emboldened, eager to accept the responsibility that James had turned down.
via
By discovering a Jordanesque killer - 03.07.11 - SI Vault
.
The underdog.
It's important that we remember the context of the team Rose was drafted into. The 2007-2008 Hawks were supposed to be Eastern Conference title contenders before the formation of the Big 3 in Boston. Even then, before we knew Ubuntu and how well the Big 3 would work together, it wasn't a sure thing that Chicago wouldn't be able to compete. Their meltdown which resulted in the Christmas firing of Scott Skiles was absolutely perplexing. It made no sense. The Bulls wound up with a high lottery spot, then, magically, wound up with Rose and the course of franchise history shifted. After two playoff appearances, the Bulls were in line to surround him with premium talent, and have done so. Are they the underdog? In the context of the Heat, the Celtics, the Lakers, yes, but it's not that great of a differential. If the Bulls were to beat any of those teams, I don't think anyone would be all that surprised outside of Tommy Heinsohn. And that's in largest part because of Rose. He's capable of taking a game over like few players in this league. He truly is that good.
But to not want LeBron? Let's simmer, there, and not go berserk trying to rewrite things in hindsight. Had James decided South Beach wasn't nice enough, that he wanted to follow in his idol Michael Jordan's footsteps, and taken his talents to the shore, Rose would have been ecstatic. Because he would be playing next to one of the greatest players in the NBA. He would be running the break with LeBron James instead of Carlos Boozer. The Bulls have a great team, but would have had a greater team with James. That's just common sense. And were Rose to have been drafted by Memphis, or Sacramento, or Milwaukee, he might feel differently about wanting to be on a stacked team. It feels a lot difference when you're in the playoffs versus watching Beno Udrih suit up next to you.
James' decision changed not only our perception of him, but of players like Rose. Rose and Durant provide the counter to the Heat, committed to their teams, winning games, taking responsibility, being humble. But with Kevin Durant "quietly" leading the league in scoring and on a top-four team in the West, yet somehow still not being talked about (probably because he plays in OKC), Rose has taken over as the moral compass to lead us away from the wasteland of South Beach's me-first mentality which apparently represented itself in friendship and a team concept. This bizarre contradiction isn't meant to excuse James. It does feel wrong that he abandoned his home on national television, that he hooked up with two of the best players in the league in his prime. But it also goes to show how fast things can change. James was the one trying to lead his home team to a title on an underwhelming roster when he was Rose's age. He was still the media darling, at least outside of DC. And he was the one that everyone marveled at. That's how quickly the underdog can become the villain.
But despite the inconsistencies and revision of the tale, it's impossible to say that Rose was being disengenous. If anything, that's what draws us to players like Rose and Durant more than anything. They're so sincere it's nearly surreal in the world of professional athletes that exists today. They are who they are, and you don't have to try and decode them or find out what they're actually saying. With Wade, with James, with Anthony, you have to read between the lines, try and discover what they're actually saying, and often times you realize they've been talking for five minutes without having said anything. Rose doesn't say much, but what he says, he means. That's admirable. As long as we like what he's saying. And that's the flip side. Rose can be the star, the hero, the icon now. But if he doesn't win, if he gets frustrated, if he starts looking for opportunities outside of basketball or becomes impatient, it can all change instantaneously, and it's at that point that sincerity becomes a liability.
In the meantime, we'll act as if this is a definitive black and white issue. James is bad, Rose is good, and that Rose didn't want James means he decided on good versus bad.
The only question is how this story will look in three years.