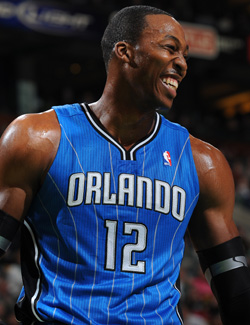 Dwight Howard will likely be shopping for a new home in the summer of 2012, joining the throng of stars who have or will be looking for brighter destinations. But can it really get any brighter than what he's got right now?
Posted by Matt Mooore
In yesterday's Shootaround, we mentioned that the
Nets
were planning to pursue Dwight Howard in 2012 when he's a free agent. Which should come as no surprise. After all, he'll be the best free agent in a market that conceivably includes
Chris Paul
and
Deron Williams
. He'll have every team with cap space clamoring after him. That's what happens when you're an MVP candidate and the best center in the game. From
The Record
:
Deron Williams has spoken with principal owner Mikhail Prokhorov and general manager Billy King about their plan and who they will pursue as they prepare for their Brooklyn move after next season.

Orlando center Dwight Howard tops that list, sources said.

The Nets want to improve the talent around Williams to get him to sign an extension when he's eligible over the summer.

"He definitely talked about that and it gets you excited," Williams said of Prokhorov. "When your owner says he's going to spend the money and put people around you, that's definitely appealing.

"There's a lot of stuff that appeals to me as far as my future here."
via
Nets notes: Deron Williams' future - NorthJersey.com
.
Howard's going to face a similar situation as
LeBron James
this summer, the option to play with another All-Star, to play where he wants and have the exact situation he wants. The Nets are in a unique position to get started on their lobbying now, provided they don't cross tampering lines, which apparently the league's not too touchy about you drifting towards. But the Nets are also in a position of relative weakness, with Deron Williams not locked up for the extended future, and with little proof that they can add to the core already in place, which is largely underwhelming. Plus, they already have their center in
Brook Lopez
, which doesn't at all mean they wouldn't ditch him for Dwight Howard, but what do you do then with Lopez?
The issues that confront the Nets provide a similar set of questions that face Howard anywhere he signs. New York? How much cap space could they have to sign him? How will he get along with
Amar'e Stoudemire
? Would he really work in Mike D'Antoni's system? Boston? What's really going to be left in Boston after the Big 3 retire, besides
Rajon Rondo
, who can't provide scoring help? There's
Glen Davis
, who will probably be overpaid this summer, but that's not really a franchise cornerstone. Boston has cap roo, mystique, and Rondo, but does Boston really fit Howard's happy-go-lucky image? The
Lakers
are the obvious choice, with the Lakers' current dynasty likely winding down at that point.
Kobe Bryant
can play till he's 40, but how will
Lamar Odom
and
Pau Gasol
fair as they get older? A sign-and-trade could probably be worked out with the Lakers for
Andrew Bynum
should Howard make it clear he won't re-sign in Orlando, but will the Lakers really have enough to get right back in the title picture with an aging core to that degree? The list goes on and on.
And then there's Orlando. Orlando, who can offer him the most money. Orlando who has made him a star. Orlando who has stuck by him and invested in his growth, and continuously worked to surround him with quality talent without sacrificing flexibility. It's Orlando who will still have the cap space to put new players around Howard, to continue this stretch of contention forward with little hicup. The
only
thing not going for Orlando is the market, and the fact that Howard can be a bigger, flashier star in a bigger city. Which tells you a lot about the NBA. Otis Smith has proven not only that he can put quality pieces around Howard, but that he'll continuosly work to improve that core. It's a sure thing, there.
But all Howard would have to do to get Orlando focused on moving forward into the future with Howard is to say he plans to re-sign there. To end the speculation and avoid everything that's followed
Carmelo Anthony
this year and which awaits Chris Paul and Deron Williams next season. Just four little word: "I'm going to stay." But instead, he throws out nice workaround phrases about how he loves Orlando, and how he is focused on this season without ever actually saying he'll stay in Orlando. You can say that's for leverage's sake, to keep Orlando motivated on improving the roster. But they've already shown they want to do that. He's bidding against himself, there. And he continues to act as if winning a championship is a given with how he plays, ignoring his still incomplete offensive repertoire and the ease by which some defenses neutralize him completely.
Orlando is the best possible place for Howard. Now, in the future, in-between. But Howard seems to pretty clearly want to make his mark somewhere fancy, to be that known face, that superstar he feels his play should reward him as. And in the meantime, he's made Orlando desperate to solve something they can't control. Just another day in the life of the ever-compounding NBA.